Mini Review Monday: Slammed and Never Never
If you read my blog regularly you know I absolutely LOVE Colleen Hoover's books. Every new book I read of hers is my new favorite. I've recently read Slammed and
Never Never
(a novella she wrote with Tarryn Fisher) and couldn't put either of them down!
Slammed
by Colleen Hoover
317 pages, published January 2012
Genre: New adult
Source: Library
What I loved so much about Slammed is that I related to it on a personal level, more so than any of her other books. I lost my father at age 29, so I understand how devastating the death of a parent can be. I really felt for Layken right from the first page. I loved how Will and Layken's stories ended up paralleling each other (don't want to give anything away here). I loved the ending, despite any sad parts. It was another perfect, heartwarming, just what you need in the middle of winter Colleen Hoover novel. It's an emotional journey that makes you laugh and cry, and by the end it became my new favorite CoHo read. Until Confess releases, of course!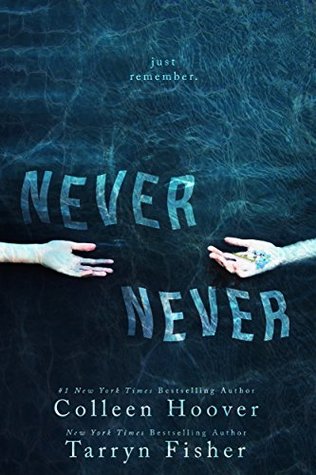 Never Never (part 1)
by Colleen Hoover and Tarryn Fisher
140 pages, published January 2015
Source: purchased on my Kindle
There's been SO MUCH buzz about this book for quite a along time, and of course because of the author I HAD to read it. This was my first time reading anything by Tarryn Fisher and I was definitely impressed! The novella sucked you in from the first sentence, confused the heck out of you, kept you confused, and then dropped a cliffhanger bomb of an ending on you that makes the prospect of waiting until May for the next book seem impossible. They gave you just enough information to not be too mad about what you don't know, and enough to keep you glued to your kindle screen until you finished it. Charlie and Silas are both engaging and interesting characters, Silas in particular. Part Two cannot come soon enough!
Happy Reading!!