Review: Cress (Lunar Chronicles #3)
Title:
Cress
(Lunar Chronicles #3)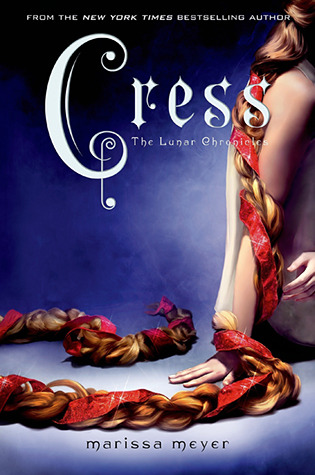 Author: Marissa Meyer
550 pages, published February 2014
Genre: YA, Science Fiction, Fairytale Retelling
Source: Library
From Goodreads:
In this third book in the Lunar Chronicles, Cinder and Captain Thorne are fugitives on the run, now with Scarlet and Wolf in tow. Together, they're plotting to overthrow Queen Levana and her army.

Their best hope lies with Cress, a girl imprisoned on a satellite since childhood who's only ever had her netscreens as company. All that screen time has made Cress an excellent hacker. Unfortunately, she's just received orders from Levana to track down Cinder and her handsome accomplice.

When a daring rescue of Cress goes awry, the group is separated. Cress finally has her freedom, but it comes at a high price. Meanwhile, Queen Levana will let nothing prevent her marriage to Emperor Kai. Cress, Scarlet, and Cinder may not have signed up to save the world, but they may be the only hope the world has.
My Review:
Cress is definitely my favorite book in the series so far!! What an exciting next chapter the series this book was. Don't be intimated by the 550 page length--it reads so fast as you get sucked into the story. Though Cinder is still my favorite character, I adored Cress.
What I love most about this series so far (and there are SO many things to love!) is how all the characters are so intertwined. When I first heard of the series, I pictured them more separate for some reason. I was so happy to see all the characters from Cinder and Scarlet come back to continue the journey.
It's hard to say too much more without revealing any spoilers, so I'll just say that Cress is an excellent continuation of the series and I can't wait for Winter to come out in November!
Overall rating for "Cress: Five Stars
Also...they just release the cover for Winter!!!! How GORGEOUS is this cover?! I think it's my favorite of the series!!! Now the wait until November begins...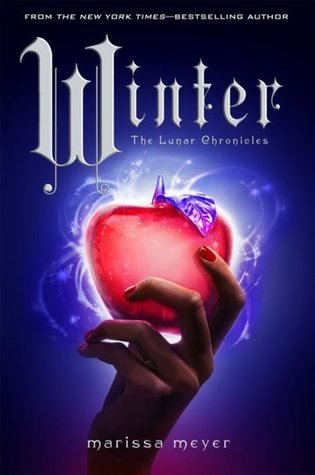 Happy Reading!