Review: Scarlet (Lunar Chronicles #2)
Title:
Scarlet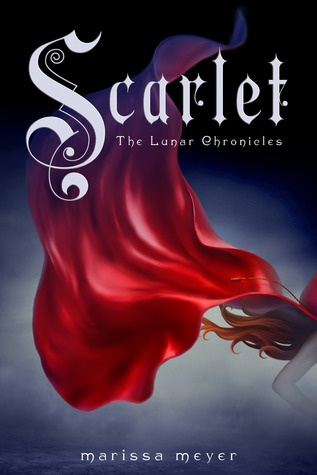 Author: Marissa Meyer
452 pages, published February 2013
Genre: YA, Science Fiction, Fairytale Retelling
Source: Library
From Goodreads:
Cinder, the cyborg mechanic, returns in the second thrilling installment of the bestselling Lunar Chronicles. She's trying to break out of prison--even though if she succeeds, she'll be the Commonwealth's most wanted fugitive.

Halfway around the world, Scarlet Benoit's grandmother is missing. It turns out there are many things Scarlet doesn't know about her grandmother or the grave danger she has lived in her whole life. When Scarlet encounters Wolf, a street fighter who may have information as to her grandmother's whereabouts, she is loath to trust this stranger, but is inexplicably drawn to him, and he to her. As Scarlet and Wolf unravel one mystery, they encounter another when they meet Cinder. Now, all of them must stay one step ahead of the vicious Lunar Queen Levana, who will do anything for the handsome Prince Kai to become her husband, her king, her prisoner.
My Review:
I am really loving this series!! Though I loved the book Cinder more than Scarlet, this was still a great book in the series. I think the reason I loved Cinder more was because the Lunar and futuristic world Marissa Meyer created was so new--by Scarlet, I was a little more used to it. I didn't need the few pages to get used to things like I did in Cinder. Another reason I loved Cinder more is becauseI really love Cinder as a character, and didn't get as attached to Scarlet. However, this was still an exciting story with unexpected twists and turns, and advanced the story nicely.
Wolf was an intriguing character--my favorite new character in the book. He was a hard one to figure out--was he a "good guy" or a "bad guy"? Finding out more about his story definitely kept me turning the pages. I was pleasantly to surprised to find that some of my predictions from Cinder were not necessarily true in Scarlet.
Again, Meyer has crafted an excellent book. Her writing style is entertaining, fun, easy to read, and draws you in. I can't wait to read the third book, Cress! If you're looking for a new series to get into, I highly recommend the Lunar Chronicles!
Overall rating for Scarlet: A-
Happy Reading!