Review: Crossing the Ice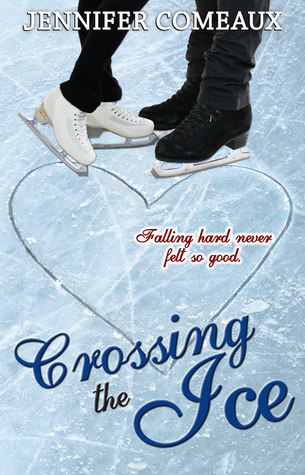 Title: Crossing the Ice
Author: Jennifer Comeaux
308 pages, published August 2014
Genre: Contemporary Romance
Source: Kindle Unlimited
From Goodreads:
Falling hard never felt so good.
Pair skaters Courtney and Mark have one shot left at their Olympic dream. They vow not to let anything get in their way, especially not Josh and Stephanie, the wealthy and talented brother and sister team.

The heart doesn't always listen to reason, though…

The more time Courtney spends with sweet, shy Josh, the harder she falls for him. But they are on opposite sides of the competition, and their futures are headed in opposite directions. Will their friendship blossom into more or are their paths too different to cross?
My review:
I was so excited to discover this author!! I LOVE figure skating--I took lessons for years when I was younger. So I was thrilled to find multiple novels centered around the skating world. This was the first one I read and I absolutely loved it. As a former skater and avid skating fan, it was clear that the author understands figure skating--the book was so accurate. If it wasn't it would've ruined it for me. It was well written, and hooked me in the first chapter--I read the last half of the book in one sitting!
I absolutely loved Courtney and Josh as characters. I couldn't stop rooting for them! I'm excited to find out what happens next in the second book in the series,
Losing the Ice
.
Overall rating for "Crossing the Ice": 4.5 stars
Happy Reading!