Review: Summer Secrets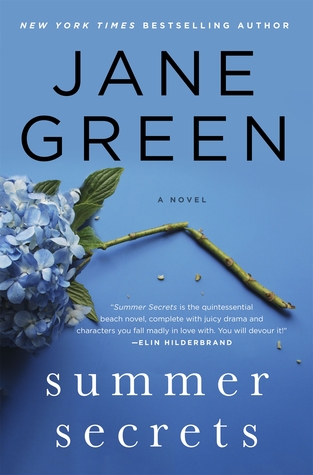 Title:
Summer Secrets
Author: Jane Green
320 pages, publish date June 23, 2015
Genre: Women's Fiction
Note: I received this book from
NetGalley
to facilitate my review. I received no other compensation, and all opinions are my own.
From Goodreads:
June, 1998: At twenty seven, Catherine Coombs, also known as Cat, is struggling. She lives in London, works as a journalist, and parties hard. Her lunchtimes consist of several glasses of wine at the bar downstairs in the office, her evenings much the same, swigging the free booze and eating the free food at a different launch or party every night. When she discovers the identity of the father she never knew she had, it sends her into a spiral. She makes mistakes that cost her the budding friendship of the only women who have ever welcomed her. And nothing is ever the same after that.

June, 2014: Cat has finally come to the end of herself. She no longer drinks. She wants to make amends to those she has hurt. Her quest takes her to Nantucket, to the gorgeous summer community where the women she once called family still live. Despite her sins, will they welcome her again? What Cat doesn't realize is that these women, her real father's daughters, have secrets of their own. As the past collides with the present, Cat must confront the darkest things in her own life and uncover the depths of someone's need for revenge.
My Review:
I was so excited to get this book from NetGalley---I'm a huge Jane Green fan! I absolutely love this cover too--blue hydrangeas are my favorite! But despite the lighthearted cover and title that makes you think of a relaxing summer read full passion and romance, this book is completely not what I expected. But I did love the book, so it was a good thing.
What I liked so much about this book is that it was so much deeper than what I expected--Cat, the main character, has a serious lifelong struggle with alcoholism--and Green beautifully captures her heartbreaks, struggles, successes, and real raw emotions. Cat is such a complex and real character, and that was the main thing that really made me love the book. I also really liked how she structured the book--she jumped back and forth between years that at first was a bit confusing but then really made sense and made the story more interesting and impactful. I also loved the other characters as well, especially Cat's daughter, Annie.
As always, the writing was fantastic. It's why I love Jane Green so much! Though this one took me a little longer than usual to get sucked into, her books are always engaging, exciting, and page turning. I read the last half of this book in one day. Jane Green has done it again and does not disappoint! The only problem was that after the ending, I wanted to know MORE about Cat's story...and Annie! If you're a fan of Jane Green, you won't regret reading this one. If you've never read her books, this is a great one to start with!
Overall rating for "Summer Secrets": 4 Stars
Happy Reading!