TLC Book Tours: Olivay
Title:
Olivay
Author: Deborah Reed
254 pages, published July 7, 2015
Genre: Fiction, Suspense
Note: I received this book from
TLC Book Tours
to facilitate my review. I received no other compensation, and all opinions are my own.
Synopsis:
We don't believe that our lives can change in an instant—until they do.

Olivay, widowed for a year and sleepwalking through life, meets Henry by chance. She takes him to her Los Angeles loft, thinking it will just be for the night. But the following morning, bombs detonate across the city; mayhem and carnage fill the streets; and her loft is covered in broken glass and her own blood. Henry is skittish, solicitous, and strangely distracted. Who is this man she's marooned with as the city goes on lockdown? Why is she catching him in lie after lie? Is he somehow connected to her husband's death and the terrorist attacks outside?

With eloquent and suspenseful prose, Olivay explores the wreckage of loss and the collision of grief, desire, and terror in its aftermath. As the characters get pushed outside their comfort zones, forced to walk the thin line between destruction and salvation, Olivay keeps readers guessing what will become of Olivay and Henry until the very end.
My Review:
This book is so bizarre! I'm having a hard time putting into words how I feel about it because it was so different and so crazy--but in a good way. Reed's writing was fantastic. It's what I liked most about the book! I also really liked the character development in the novel. The plot did move a bit slowly for me at times, and I kept asking myself "where is this story going?' Regardless of my questioning, the book still sucked me in and kept me reading. The book definitely gave me enough to stay engaged in the story, but still left me confused and wondering what was really going on and where things were headed. The psychological thriller aspect of the novel was an aspect I loved as well. I couldn't figure Henry out--figuring out what was going on with him kept me reading and kept me guessing!
If you looking for a suspenseful book with beautiful writing, this is a great book for you! My rating: 3.5 stars!
About the Author: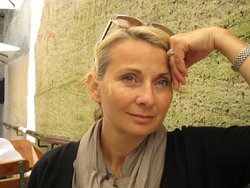 Deborah Reed's novel Things We Set on Fire sold more than one hundred thousand copies in its first six months, while Carry Yourself Back to Me was a Best Book of 2011 Amazon Editors' Pick. She wrote the bestselling thriller A Small Fortune and its sequel, Fortune's Deadly Descent, under her pen name Audrey Braun. Several of her novels have been translated or are forthcoming in German. Her nonfiction has appeared in publications such as the Literarian, MORE, and Poets & Writers. She holds a master of fine arts degree in creative writing, and teaches at the UCLA Extension Writing Program. She is also codirector of the Black Forest Writing Seminar at the University of Freiburg in Germany. She resides in Los Angeles. Like her on
Facebook
!
View more information about this book tour
here
.