TLC Book Tour: Broken Homes and Gardens
Title: Broken Homes and Gardens
Author: Rebecca Kelley
280 pages, published April 2015
Genre: Fiction, Romance
Purchase on Amazon
Note: I received this book from TLC Book Tours
to facilitate my review. I received no other compensation, and all opinions are my own.
Synopsis:
A girl, a guy, a broken-down house. Not exactly on-again, off-again, Malcolm and Joanna are in-again, out-again: in love, out of each other's arms, in an awkward co-living arrangement, out of the country. Their unconventional relationship is the only way, Joanna says, to protect herself from the specter of commitment, which inevitably leads to heartbreak. "When Harry Met Sally" for the Millennial generation, set in the damp and drizzly neighborhoods of Portland, Oregon,
Broken Homes and Gardens
is an ode to friendship, lust, and the unrelenting pull of love.
My Review:
I love reading books by authors of from my home state! The book was fun to read since the majority of it was set in Portland, OR. It was clear the author new the city well, which strengthened the book. I thought the book was very well written, as I enjoyed her writing style.
My main issue with the book was that I felt like screaming at the characters for the majority of the book! Though the synopsis warned me about the on again, off again nature of Joanna and Malcolm's relationship, I still wanted to grab Joanna by the shoulders and shake some sense into her! Though it allowed the story to keep moving, it almost made me so frustrated with the characters I didn't care about what happened to them.
Despite my frustration with the character and plot, this book really was well written and fast moving. I look forward to more novels from this Oregon author!
Overall rating: 3.5 stars
About Rebecca Kelley: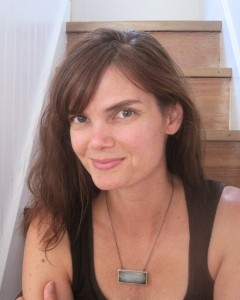 Rebecca Kelley grew up in Carson City, Nevada, wandered for a few years, and eventually landed in Portland, where she teaches writing at Oregon College of Art and Craft. She is the co-author of
The Eco-nomical Baby Guide
.
Broken Homes & Gardens
is her first novel.
Author's Website
T
witter
See information about the rest of the tour here.