Review: The Admissions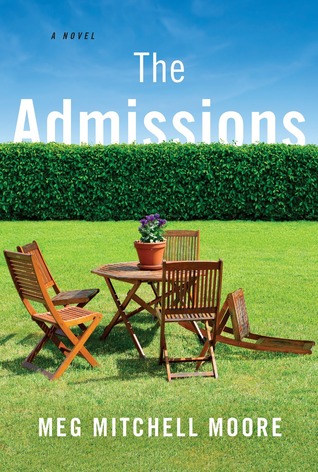 Title:
The Admissions
Author:Meg Mitchell Moore
320 pages, published August 2015
Genre: Women's Fiction
Note: I received this book from
NetGalley
to facilitate my review. I received no other compensation, and all opinions are my own.
From Goodreads:
The Hawthorne family has it all. Great jobs, a beautiful house in one of the most affluent areas of northern California, and three charming kids with perfectly straight teeth. And then comes their eldest daughter's senior year of high school . . .
Firstborn Angela Hawthorne is a straight-A student and star athlete, with extracurricular activities coming out of her ears and a college application that's not going to write itself. She's set her sights on Harvard, her father's alma mater, and like a dog with a chew toy, Angela won't let up until she's basking in crimson-colored glory. Except her class rank as valedictorian is under attack, she's suddenly losing her edge at cross-country, and she can't help but daydream about the cute baseball player in English class. Of course Angela knows the time put into her schoolgirl crush would be better spent coming up with a subject for her term paper—which, along with her college essay and community service hours has a rapidly approaching deadline.
Angela's mother, Nora, is similarly stretched to the limit, juggling parent-teacher meetings, carpool, and a real-estate career where she caters to the mega rich and super-picky buyers and sellers of the Bay Area. The youngest daughter, Maya, still can't read at the age of eight; the middle-child, Cecily, is no longer the happy-go-lucky kid she once was; and the dad, Gabe, seems oblivious to the mounting pressures at home because a devastating secret of his own might be exposed. A few ill-advised moves put the Hawthorne family on a heedless collision course that's equal parts achingly real and delightfully screwball.
Sharp and topical, The Admissions shows that if you pull at a loose thread, even the sturdiest of lives start to unravel at the seams of high achievement.
My Review:
I don't mention it a lot on this blog, but my day job is in Admissions at a small public university, so this book was right up my alley! Certainly not Harvard level but I still found this book very entertaining and a realistic picture of the pressure put on high achieving students today. After reading this book I thought an appropriate subtitle for this book should be "Why Helicopter Parenting Is Damaging our Youth" or something similar. Though not all college bound students are high achieving like Angela, this level of pressure happens everywhere. I see it literally every day, and I don't work for a highly selective school. I was impressed with the author's ability to capture that in this book, even if it was a bit quirky and intense at times. She really showed how that kind of pressure that parents put on their children can affect the entire family, and even the parents themselves.
Halfway through this book, I was all ready to give 3 stars. I felt it was dragging. I felt it was cliché. But the more I read, the more I liked it. The title began to make sense. It's not just about Angela's college admissions process, it was about secrets and lies. Admitting the truth. Facing up to your mistakes. Admitting you're not perfect. It was well written, honest, emotional, and real. There was humor and sadness and everything in between. I definitely recommend this book, and believe you can relate to it even if you're not involved in the college admissions process like I am!
One negative: the cover. It just didn't work for me! Yes I am a cover snob!
Overall rating for "The Admissions": 4 stars
Happy Reading!