Review: All I Want
Title: All I Want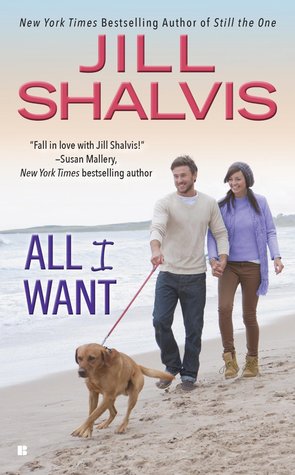 Author: Jill Shalvis
304 pages, published October 6, 2015
Genre:Contemporary Romance
Note: I received this book from

NetGalley
to facilitate my review. I received no other compensation, and all opinions are my own.
From Goodreads:
Pilot-for-hire Zoe Stone is happy to call Sunshine, Idaho, her home base. But her quiet life is thrown for a loop when her brother's friend Parker comes to stay with her for a week. The U.S. Fish and Wildlife special agent is a handsome flirt with a gift for getting under her skin. And the situation only escalates when Parker hires her to fly him around the area while he collects evidence on a suspected smuggler.

Now she has to live and work with the guy. But when they're in the air, she sees another side of him. He's driven, focused, and sharp. And while he enjoys giving commentary on her blind dates, she quickly realizes with a shock that it's Parker who gets her engines going…
My Review:
I'm a big fan of Jill Shalvis--her books are a perfect weekend read no matter the season. I've read her books on the beach and snuggled up on the couch. They're comforting in their predictability, and this book is no exception. I loved Zoe and Parker as a couple--and I absolutely fell in love with Oreo, the dog (not that it takes much for me to do that, but still!). And the kittens!
What I like about this book and all of her books is that there actually is a plot to the story--sometimes in fluffy romances there isn't anything else going on other than the romance, but that's not the case with Jill Shalvis. The story was interesting and moved at a great pace. I was hooked instantly!
If you've read other books by Shalvis or in this series (Animal Magnetism) and liked them, you will love this one too! And I LOVE LOVE LOVED the ending. Don't worry, I won't give it away. But I LOVED it!!!
I only have one grip about the book. Let me preface this gripe by saying to Jill Shalvis, I know that this isn't your fault. I know you don't design the covers. But this cover shows an adorable couple walking an adorable dog on the beach. The cover did its job--it drew me in. BUT....the entire book is set in Idaho. There is no beach. I know it's nitpicking, but I am admittedly a cover snob. BUT again...not the author's fault and the book is fantastic!
Overall rating for "All I Want": 4 stars
Happy Reading!