Review: A Madness So Discreet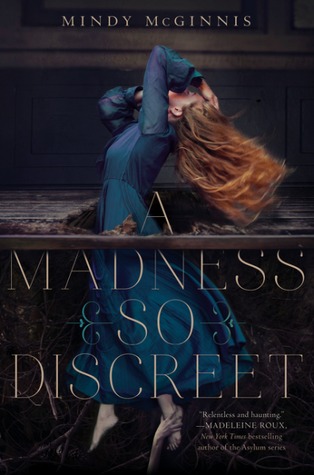 Title: A Madness So Discreet
Author: Mindy McGinnis
384 pages, published October 2015
Genre: YA, Thriller, Mystery, Historical Fiction
Source: Library
From Goodreads:
Grace Mae knows madness.
She keeps it locked away, along with her voice, trapped deep inside a brilliant mind that cannot forget horrific family secrets. Those secrets, along with the bulge in her belly, land her in a Boston insane asylum.
When her voice returns in a burst of violence, Grace is banished to the dark cellars, where her mind is discovered by a visiting doctor who dabbles in the new study of criminal psychology. With her keen eyes and sharp memory, Grace will make the perfect assistant at crime scenes. Escaping from Boston to the safety of an ethical Ohio asylum, Grace finds friendship and hope, hints of a life she should have had. But gruesome nights bring Grace and the doctor into the circle of a killer who stalks young women. Grace, continuing to operate under the cloak of madness, must hunt a murderer while she confronts the demons in her own past.
In this beautifully twisted historical thriller, Mindy McGinnis, acclaimed author of
Not a Drop to Drink
and
In a Handful of Dust
, explores the fine line between sanity and insanity, good and evil—and the madness that exists in all of us.
My Review:
Can we take a moment to appreciate this fantastic cover?? It's what drew me to the book--I absolutely had to read it. What I loved about this book was that it was an effortless mix of multiple genres--thriller, mystery, and historical fiction, all with a young adult audience in mind. This is the first book I've read by this author, and I look forward to reading her other books--her writing is excellent.
I absolutely LOVED the main character, Grace. She is full of secrets and is so smart and is such an intriguing main character. While parts of the book moved a bit slowly at times, I couldn't put it down because I had to know what happened to Grace. The ending of the story was amazing--we finally lean all the secrets you know are being withheld from you throughout the book.
In addition to the fantastic writing and main character, I loved the historical fiction aspect of this book. My undergraduate degree was in psychology, and the history of the the study of psychology and the treatment of the mentally ill in this time period was fascinating. The book indicates the time period as 40 years after the accident of the early pioneers (and patients) of the filed of psychology, Phineas Gage, which puts the book in the 1890's time period. This was the era of phrenology (early psychologists believed the bumps on your head were linked to your personality) and lobotomies. The treatment of the mentally ill in this time period was horrifying and heartbreaking, and the author captures this well.
If you love any of these genres, you need to read this book. It's eloquent, suspenseful, and fascinating. And if you're a psychology nerd like me--read this NOW:)
Overall rating for "A Madness So Discreet": 4.5 stars
Happy Reading!