Review: November 9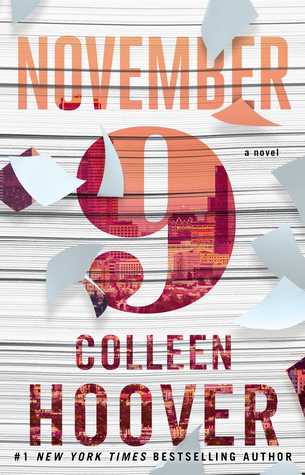 Title: November 9
Author: Colleen Hoover
320 pages, published November 10, 2015
Genre: NA Contemporary Romance
Source: Purchased for myself
From Goodreads:
Fallon meets Ben, an aspiring novelist, the day before her scheduled cross-country move. Their untimely attraction leads them to spend Fallon's last day in L.A. together, and her eventful life becomes the creative inspiration Ben has always sought for his novel. Over time and amidst the various relationships and tribulations of their own separate lives, they continue to meet on the same date every year. Until one day Fallon becomes unsure if Ben has been telling her the truth or fabricating a perfect reality for the sake of the ultimate plot twist.
My Review:
Colleen Hoover is AMAZING. How does she do it?? How does she manage to make each new book she releases my new favorite? November 9 (which I pre-ordered without even reading the blurb) BLEW ME AWAY. I loved literally everything about this book. I loved the story. I loved the characters. I loved the format of the book. The pacing of the story was perfect. The writing was fantastic. I loved ALL OF IT.
And the plot twist? Didn't see it coming. My jaw literally dropped when I read it. Have tissues for this one. And your favorite beverage. You will NOT be able to put it down (I read 2/3 of it in one sitting, while drinking Sunday morning coffee). Prepare to cry sad tears and happy tears. THIS BOOK! THE FEELS! Oh my goodness I can't even.
. It is on another level. My next favorite CoHo? Slammed and Confess. But this one is now not only one of my favorite CoHo novels, it's on my list of favorite books EVER.
So...can I pre-order her next book yet??
Overall rating for "November 9": 5 stars
Happy Reading!