Review: The Sacred Lies of Minnow Bly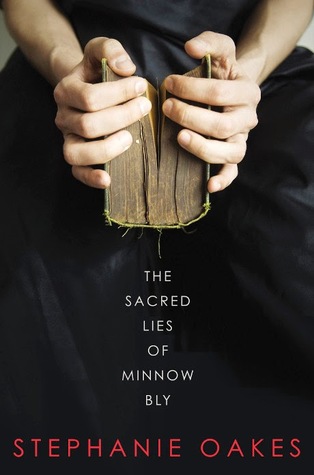 Title: The Sacred Lies of Minnow Bly
Author: Stephanie Oakes
400 pages, published June 2015
Genre: YA, Thriller, Mystery
Source: Library
From Goodreads:
The Kevinian cult has taken everything from seventeen-year-old Minnow: twelve years of her life, her family, her ability to trust.
And when she rebelled, they took away her hands, too.
Now their Prophet has been murdered and their camp set aflame, and it's clear that Minnow knows something—but she's not talking. As she languishes in juvenile detention, she struggles to un-learn everything she has been taught to believe, adjusting to a life behind bars and recounting the events that led up to her incarceration. But when an FBI detective approaches her about making a deal, Minnow sees she can have the freedom she always dreamed of—if she's willing to part with the terrible secrets of her past.
The Sacred Lies of Minnow Bly is a hard-hitting and hopeful story about the dangers of blind faith—and the power of having faith in oneself.
My Review:
I've been really into reading thrillers lately--totally outside my normal genre but I am loving this change of pace! This book did not disappoint--I absolutely loved it and could not put it down. The writing was amazing, and the style and format of the book flowed well. The story unraveled in a logical way, and the more I read the more I loved Minnow as a character.
The one thing I didn't love about this book? The ending. It was a bit open ended for me. I wanted MORE. I want to know more about what happens to Minnow. If you're looking for a good, creepy book, this is a great pick. The writing is solid, the story is addicting, and the characters are interesting and real. Definitely a YA book not to miss!
Overall rating for "The Sacred Lies of Minnow Bly": 4.5 stars
Happy Reading!