Review: The Girls of Mischief Bay
Title: The Girls of Mischief Bay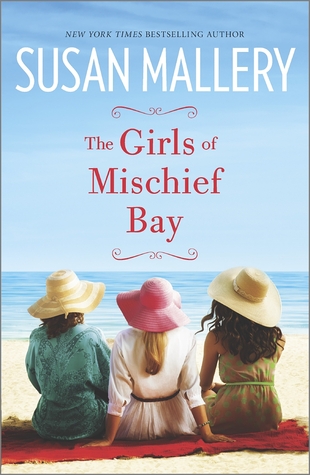 Author: Susan Mallery
416 pages, published February 2015
Genre: Women's Fiction, Romance
Source: Library
From Goodreads:
Nicole Lord wants to be a good wife, but there's a difference between being supportive and supporting her husband, who quit his job to write a screenplay she's never seen. He won't even help take care of their son, leaving Nicole to run the house and work full-time at her Mischief Bay Pilates studio. Can she say enough is enough without losing the man she loves?

Sacrificing a personal life for her career is how Shannon Rigg rose to become vice president in her firm, but she wonders now whether she made the right choice. An exciting new relationship with a great guy convinces her that it might not be too late—until he drops a bombshell that has her questioning whether she can have it all. And if she can, does she want it?

Although Pam Eiland has a beautiful house and a husband she adores, she feels… restless. She wonders who a stay-at-home mom becomes after the kids are grown. Finding sexy new ways to surprise her husband brings the heat and the humor back to their marriage, but when unexpected change turns her life upside down, she'll have to redefine herself. Again.

Through romance and heartbreak, laughter and tears, three very different women will discover that friends can become family, and that life is richer with sisters at your side.
I've really gotten into Susan Mallery's books over the last year, and love them so much! But this one is my favorite one of hers I've read so far. It's so much more than your typical romance. I love how Mallery showcases friendship in this novel, and the bond between female friends. And I have fallen in love with the community of Mischief Bay! This is the first in the Mischief Bay series, so I am super excited to read more books set in this charming SoCal town.
I loved all three of the main characters. What I admire about Mallery's writing in this novel was her ability to make me relate, in part, to all three main characters. I felt like I knew them and was friends with them. I want to get to know them more in future books.
This book is above and beyond the typical romance read--I highly recommend it!
Overall rating for "The Girls of Mischief Bay": 5 stars