TLC Book Tours: Everything We Keep (GIVEAWAY!)
Paperback: 304 pages

Genre: Women's Fiction

Publisher: Lake Union Publishing (August 1, 2016)
Sous chef Aimee Tierney has the perfect recipe for the perfect life: marry her childhood sweetheart, raise a family, and buy out her parents' restaurant. But when her fiancé, James Donato, vanishes in a boating accident, her well-baked future is swept out to sea. Instead of walking down the aisle on their wedding day, Aimee is at James's funeral—a funeral that leaves her more unsettled than at peace.
As Aimee struggles to reconstruct her life, she delves deeper into James's disappearance. What she uncovers is an ocean of secrets that make her question everything about the life they built together. And just below the surface is a truth that may set Aimee free…or shatter her forever.
A luminous debut with unexpected twists, Everything We Keep explores the devastation of loss, the euphoria of finding love again, and the pulse-racing repercussions of discovering the truth about the ones we hold dear and the lengths they will go to protect us.

Purchase Links

WOW. What a fantastic book!! I've been in this reading rut for the last month or so. I've read quite a few books, most of which have been pretty good, but none that have made me say WOW. Until this one! This book is phenomenal! I tore through this book so quickly because I just HAD to know what happened. I can't say too much more than the blurb says because I don't want to give anything

away.

You're given just enough

in the story

to know something crazy is going on, but you're still left guessing until the very end! There are so many surprises along the way. It's also an emotional read, at least it was for me. My heart hurt for Aimee so much

throughout

this book. The ending was especially emotional. Hoping for a sequel with this one!
In addition to the plot being the reason I couldn't put the book down, it was also Kerry's beautiful writing. It flowed so well. I love how she worked in the flashbacks to her and James's younger years. It fit perfectly in the story and contributed to what was happening in the present. This is a five star read for sure!!
About Kerry Lonsdale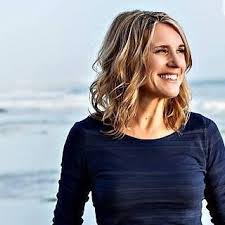 Kerry Lonsdale believes life is more exciting with twists and turns, which may be why she enjoys dropping her characters into unexpected scenarios and foreign settings. She graduated from California Polytechnic State University, San Luis Obispo, and is a founder of the Women's Fiction Writers Association, an online community of authors located across the globe. She resides in Northern California with her husband, two children, and an aging golden retriever who's convinced she's still a puppy. Everything We Keep is Kerry's first novel.
Connect with Kerry
a Rafflecopter giveaway
Follow the rest of the tour here.