TLC Book Tours: The Goodbye Year
Paperback: 312 pages
Publisher: SparkPress (May 3, 2016)
Melanie, a perfectionist mom who views the approaching end of parenting as a type of death, can't believe she has only one more year to live vicariously through her slacker senior son, Dane. Gorgeous mom Sarah has just begun to realize that her only daughter, Ashley, has been serving as a stand-in for her traveling husband, and the thought of her daughter leaving for college is cracking the carefully cultivated façade of her life. Will and his wife are fine-as long as he follows the instructions on the family calendar and is sure to keep secret his whole other life with Lauren, the woman he turns to for fun (and who also happens to have a daughter in the senior class).
Told from the points of view of both the parents and the kids, The Goodbye Year explores high school peer pressure, what it's like for young people to face the unknown of life after high school, and how a transition that should be the beginning of a couple's second act together-empty nesting-might possibly be the end.

Purchase Links

What excited me about this book was that it focused on a population I work with every day in my day job--students going through the college search process. I loved the premise of the book and that it was told from different perspectives. That being said, I had a hard time keeping everyone straight in the beginning. There is a "cast list" at the beginning that listed all the characters and their families, but reading it on a kindle made it difficult to go back and forth. I definitely recommend reading the physical book

for this reason!
Rouda does an excellent job of portraying her characters in

each chapter.

It was definitely an entertaining read, but was hard to relate to at times for me because it was almost too much drama...felt like a "reality" show!

S

till an excellent summer read that keeps you turning the pages!
About Kaira Rouda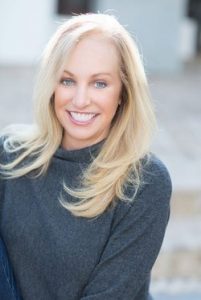 Kaira Rouda is a USA TODAY bestselling, multiple award-winning author of contemporary fiction that sparkles with humor and heart including HERE, HOME, HOPE and IN THE MIRROR. Her latest novel, THE GOODBYE YEAR, will be released in May of 2016. Her modern romance novels are set on beaches, including the Laguna Beach series, the Indigo Island series and coming soon, the Malibu series.
She lives in Southern California with her family and is at work on her next novel. After living in Columbus, Ohio, for most of her life, she now enjoys the beach whenever possible.
Connect with Kaira

Follow the rest of the tour here!