Review: The Woman in Cabin 10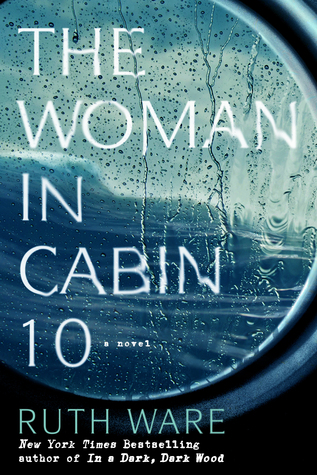 Title: The Woman in Cabin 10
Author: Ruth Ware
352 pages, published July 2016
Source: Library
From Goodreads:
From New York Times bestselling author of the "twisty-mystery" (Vulture) novel In a Dark, Dark Wood, comes The Woman in Cabin 10, an equally suspenseful novel from Ruth Ware—this time, set at sea.

In this tightly wound story, Lo Blacklock, a journalist who writes for a travel magazine, has just been given the assignment of a lifetime: a week on a luxury cruise with only a handful of cabins. At first, Lo's stay is nothing but pleasant: the cabins are plush, the dinner parties are sparkling, and the guests are elegant. But as the week wears on, frigid winds whip the deck, gray skies fall, and Lo witnesses what she can only describe as a nightmare: a woman being thrown overboard. The problem? All passengers remain accounted for—and so, the ship sails on as if nothing has happened, despite Lo's desperate attempts to convey that something (or someone) has gone terribly, terribly wrong…
There's been a lot of buzz about this book lately, so I was excited to pick it up at the library! What I liked about the book is it sucked me in from the very first page. The book kept me guessing all throughout the story--is Lo crazy or did she really see something? Throughout the book there were chat conversations or news article's pertaining to what was going on the the boat, that left you even more confused and guessing. Is Lo missing? Where is she? Can she prove what she thought she saw? Some of the aspects of the mystery were a bit cheesy, but overall it was a good mystery with a bit of psychological thriller thrown in. Was it the best psychological thriller I've read lately? No. Did I still enjoy it? Absolutely. Is it still worth reading? Definitely!
Overall rating for "The Woman in Cabin 10": 3.5 stars
Happy Reading!