Review: Bridges
Title: Bridges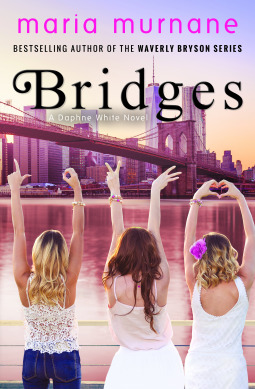 Author: Maria Murnane
Release Date: April 4, 2017
Note: I received this book from the author t
o facilitate my review. I received no other compensation, and all opinions are my own.
From Goodreads:
It's a piece of news Daphne never expected to hear: Her globe-trotting friend Skylar, who vowed never to get married, is engaged! Time to celebrate in Manhattan—Skylar's treat, of course. After years scaling the corporate ladder, she can more than afford it.
Daphne arrives in NYC with news of her own—the novel she's finally finished appears to be going nowhere but the trash bin of every publishing house around. She's devastated but plans to keep her disappointment under wraps, something that becomes trickier when she sees Skylar's spectacular apartment. Could her life have been like this if she'd chosen a different path?
What Daphne doesn't know is she's not the only one with a secret. Skylar and their friend KC are also holding something back, but what? As the trip unfolds, the truth about each woman emerges, along with tears.
And laughter. And love.
The fun-loving trio readers fell for in Wait for the Rain is together once more. Here's to the power of friendship!
I absolutely loved Wait for the Rain, and was so excited to get to read more about Daphne, Skylar and KC again!! I enjoyed this book just as much and was so glad I read Wait for the Rain so I had more background on the characters. You don't have to have read Wait for the Rain, it can certainly be read as a standalone, but I think I enjoyed Bridges more because I'd read Wait for the Rain.
Murnane does a fantastic job of showcasing female friendships and how you can still be close friends despite living in different states. When you all come back together, it's as if no time has passed! All three of the characters are so easy to relate to, which is why I was so excited to read another book about their lives. I can't pick which one I like the best because I see bits of myself in all three. I really liked the new character in this book, Sloane. I love how Skylar, Daphne and KC helped her, and would love to read more about her in a future book!
This book was so well written and hard to put down. I was sad when it ended (though I loved the ending!). I loved how real the story was, as it showcased a wide range of feelings and emotions from all three characters who are at different stages in their lives despite being the same age. I hope Murnane writes more books about this trio!
Overall rating for "Bridges": 4.5 stars