TLC Book Tours: Sisters Like Us (Excerpt)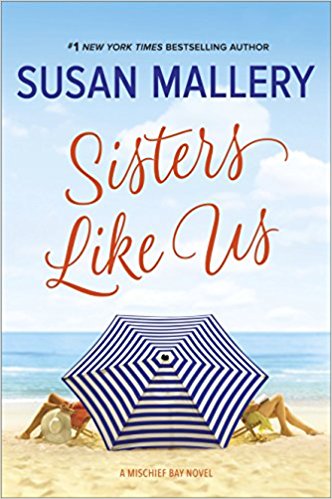 About
Sisters Like Us
Paperback: 432 pages
Publisher: MIRA (January 23, 2018)
The grass is always greener on your sister's side of the fence…
Divorce left Harper Szymanski with a name no one can spell, a house she can't afford and a teenage daughter who's pulling away. With her fledgling virtual-assistant business, she's scrambling to maintain her overbearing mother's ridiculous Susie Homemaker standards and still pay the bills, thanks to clients like Lucas, the annoying playboy cop who claims he hangs around for Harper's fresh-baked cookies.
Spending half her life in school hasn't prepared Dr. Stacey Bloom for her most daunting challenge—motherhood. She didn't inherit the nurturing gene like Harper and is in deep denial that a baby is coming. Worse, her mother will be horrified to learn that Stacey's husband plans to be a stay-at-home dad…assuming Stacey can first find the courage to tell Mom she's already six months pregnant.
Separately they may be a mess, but together Harper and Stacey can survive anything—their indomitable mother, overwhelming maternity stores and ex's weddings. Sisters Like Us is a delightful look at sisters, mothers and daughters in today's fast-paced world, told with Susan Mallery's trademark warmth and humor.
"Fresh and engaging… There's a generational subtext that mirrors reality and the complexities of adult relationships…filled with promise of a new serial that's worth following." -Fort Worth Star-Telegram
"Mallery enthralls [and] thoroughly involves readers in the lives of her characters as they face realistic, believable problems and search for their own happy endings." -Publishers Weekly

Purchase Links
EXCERPT (beginning of Chapter 4)
Becca Szymanski carried her suitcase and backpack into the living room and let both fall to the carpeted floor. She was happy, sad, mad, annoyed and relieved all at once, and her chest wasn't big enough for that much emotion.
She'd known her mom was totally going to overreact to the dogs and she hadn't been wrong. Just once, just one single time, she would really appreciate it if her mother would listen and respond like a thoughtful person instead of always jumping to the conclusion that not only would it go badly but it would all be Becca's fault because she wasn't responsible enough.
Becca was responsible. She'd gotten through her parents' divorce without letting either of them know how devastated she was. She'd gotten through her best friend's moving away without anyone seeing how shattered she was inside. She lived a thousand emotions her mother knew nothing about…and never would.
Becca collapsed to the floor and started to cover her face with her hands only to hear a faint whimper. She looked up and saw Jazz standing just inside the front door, her expression worried, her brown eyes questioning.
"Oh, Jazz, I'm sorry. I forgot you were there." Becca bit her bottom lip. Did saying that make her mother right?
No
, she told herself quickly. Of course not. She'd been home five seconds—it would take a while for them all to adjust to a pet.
She shifted onto her knees, then held out her arms and said softly, "Jazz, come here."
The black-and-tan Doberman approached, then sat obediently. Becca threw her arms around the dog and hung on. "It's okay," she whispered against the dog's warm body. "You're going to be safe now, I promise. I'm going to be here for you."
She drew back and looked into Jazz's face. "Thor is going to stay with our friend Lucas, and Bay will be with Aunt Stacey. Lucas is a good guy. He's a detective with the Los Angeles Police Department. He's been my mom's client for about a year now." She smiled. "He's a grown-up, so you know what that means, although he's pretty cool with me." She wrinkled her nose. "He always has really young girlfriends. It was creepy at first, but finally I asked him if I had to worry that he would want to date one of my friends in a couple of years."
Jazz's ears perked up, as if she were interested in the answer.
"He said the younger woman thing was because of trauma and that he promised he would never embarrass me that way. He said he wanted me to know that he totally respected me and my mom and that he would be there if we needed something." She stroked the dog's head. "To be honest, he has been really supportive and stuff with us. I'm telling you this so you won't worry about Thor."
She thought about her aunt Stacey. "I'm sure Bay will be good with Kit and Stacey. They have a nice house and a yard. Uncle Kit's really fun and Aunt Stacey is super smart. She's going to cure MS or maybe help people with MS have less symptoms. I'm never sure when she talks about her work." She hugged Jazz. "I get it. Even though you know everyone is okay, you're going to miss your friends, though, aren't you? I so get that. I miss Kaylee, but she's off having fun with her new friends. You should see what she posts on Instagram all the time." Becca waved her hands in the air. "Look at me! Look at me!"
Jazz's steady gaze never wavered. Becca dropped her arms to her side.
"You have no idea who I'm talking about, do you," she said with a sigh. "Sorry." She thought briefly of pulling out her phone and showing Jazz the videos, then told herself the dog still wouldn't care. Because this was all new to Jazz and no matter how well trained she was, she had to be scared.
"I remember the first night my dad left," Becca admitted in a low voice as she sat on the floor and continued to pet the dog. "I was crying, my mom was crying, my grandmother kept asking my mom what she'd done wrong. It was horrible. Uncle Kit and Aunt Stacey had just gotten married and were on their honeymoon, so she wasn't here."
Becca sighed. "I don't know if anyone's told you this, but Great-Aunt Cheryl is gone. She was really old and she died." She shifted so she sat directly in front of Jazz. "I promise I will always take care of you, Jazz. I'll be here. I have to go to school and stuff, but then I'll come home. You belong here now. With me."
She smiled. "I always wanted a dog, but Mom said we couldn't because Dad was allergic. After the drive home, I guess he really is. Anyway, I want you to know I'm going to take care of you. I have the book of instructions Great-Aunt Cheryl left me. I'll get copies to Stacey and Lucas. You have to believe in me, okay? I'm going to be here. I'm not going to die like Great-Aunt Cheryl, and I'm not going to leave you like my dad."
Tears unexpectedly formed. Becca brushed them away. It was one thing to be upset about the dogs, but she refused to cry over the divorce. It had been two years and she should be over it. At least that was what everyone else seemed to think.
She knew, compared to some of her friends, she had it easy. She wasn't shuffled from house to house and she didn't have to deal with a bunch of new stepbrothers and sisters. In fact, she rarely saw her father. He was too busy with his new life and Alicia.
To see the full excerpt tour, click here. Also look for my review post on February 7th!