Review: When Life Gives You Lululemons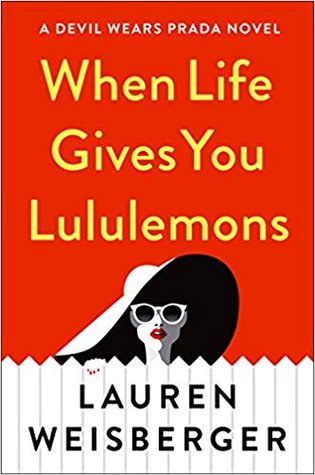 Title: When Life Gives You Lululemons
Author: Lauren Weisberger
Publish date: June 5, 2018
352 pages
Note: I received this book from NetGalley to facilitate my review. I received no other compensation, and all opinions are my own.

From Goodreads:
Welcome to Greenwich, CT, where the lawns and the women are perfectly manicured, the Tito's and sodas are extra strong, and everyone has something to say about the infamous new neighbor.

Let's be clear: Emily Charlton, Miranda Priestly's ex-assistant, does not do the suburbs. She's working in Hollywood as an image consultant to the stars, but recently, Emily's lost a few clients. She's hopeless with social media. The new guard is nipping at her heels. She needs a big opportunity, and she needs it now.

Karolina Hartwell is as A-list as they come. She's the former face of L'Oreal. A mega-supermodel recognized the world over. And now, the gorgeous wife of the newly elected senator from New York, Graham, who also has his eye on the presidency. It's all very Kennedy-esque, right down to the public philandering and Karolina's arrest for a DUI—with a Suburban full of other people's children.

Miriam is the link between them. Until recently she was a partner at one of Manhattan's most prestigious law firms. But when Miriam moves to Greenwich and takes time off to spend with her children, she never could have predicted that being stay-at-home mom in an uber-wealthy town could have more pitfalls than a stressful legal career.

Emily, Karolina, and Miriam make an unlikely trio, but they desperately need each other. Together, they'll navigate the social landmines of life in America's favorite suburb on steroids, revealing the truths—and the lies—that simmer just below the glittering surface. With her signature biting style, Lauren Weisberger offers a dazzling look into another sexy, over-the-top world, where nothing is as it appears.
Let me start by saying I absolutely LOVE The Devil Wears Prada. It's one of my all time favorites. When I'm having a stressful time at work, I reread that book to make myself feel better. So Weisberger had a lot to live up to, especially since Revenge Wears Prada was such a huge disappointment for me. But I still HAD to read this one, especially since the main character in the book is Emily! You don't have to have read TDWP or RWP in order to enjoy this one, but I definitely think it will appeal more to those that have read them. Miranda Priestly does make an appearance!

I am happy to say it was a very strong addition to TDWP series, as it was well written, witty, snarky and everything you'd expect from a follow up novel. I was immediately hooked, could NOT put it down, raced through it in just a few days. I loved the new characters Karolina and Miriam, but especially loved learning more about Emily! I related so well to her! I was thrilled with everything about the book....until the ending. I feel like Emily had a pretty substantial character change at the end that just seemed inconsistent to me and a little too fast--all within the final 10% of the book. A lot of my reasoning may just be my personal views, but it still left me with a bad taste in my mouth at the end. If you've read it and want to discuss, let me know. I don't want to give away spoilers.

Overall--a solid 3.5 stars for this one! I still highly recommend adding it to your summer reading list!
Happy Reading! That's all.