TLC Book Tours: Tear Me Apart (Review and GIVEAWAY!)
About
Tear Me Apart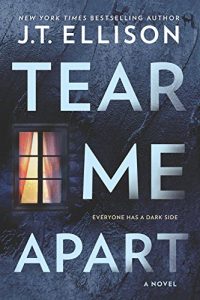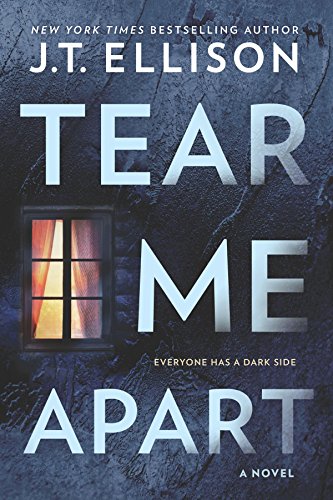 Print Length: 496 pages
Publisher: MIRA; Original edition (September 1, 2018)
The follow-up to her critically acclaimed Lie to Me, J.T. Ellison's Tear Me Apartis the powerful story of a mother willing to do anything to protect her daughter even as their carefully constructed world unravels around them.
One moment will change their lives forever…
Competitive skier Mindy Wright is a superstar in the making until a spectacular downhill crash threatens not just her racing career but her life. During surgery, doctors discover she's suffering from a severe form of leukemia, and a stem cell transplant is her only hope. But when her parents are tested, a frightening truth emerges. Mindy is not their daughter.
Who knows the answers?
The race to save Mindy's life means unraveling years of lies. Was she accidentally switched at birth or is there something more sinister at play? The search for the truth will tear a family apart…and someone is going to deadly extremes to protect the family's deepest secrets.
With vivid movement through time, Tear Me Apart examines the impact layer after layer of lies and betrayal has on two families, the secrets they guard, and the desperate fight to hide the darkness within.

Purchase Links
What a wild ride of a book!! This book had so many layers--psychiatric facilities, family secrets, mysterious deaths, cancer--all super heavy stuff. Despite all the heavy themes, the author wove it together perfectly to tell a gripping story of the need for truth among years of family secrets and lies. Though I had put some of the pieces together earlier in the book, I was still unable to put this one down because I had to know what happened to Mindy. The characters were so interesting and well developed. My favorite character was Mindy's aunt Juliet--who risked everything to help find out what happened in Mindy's past. The book switched between letters from two psychiatric ward patients in the early to mid 90s to Mindy's life today, and as the book went on, more and more pieces fell into place.
This was my first time reading J.T. Ellison's work and it certainly won't be my last. When you read it, make sure to read the author's note at the end--there's good information in there that relates to the story. This is a must read psychological thriller!
About J. T. Ellison
New York Times and USA Today bestselling author J.T. Ellison writes standalone domestic noir and psychological thriller series, the latter starring Nashville Homicide Lt. Taylor Jackson and medical examiner Dr. Samantha Owens, and pens the international thriller series "A Brit in the FBI" with #1 New York Times bestselling author Catherine Coulter. Cohost of the Emmy Award-winning show, A Word on Words, Ellison lives in Nashville with her husband.
Connect with J. T.
a Rafflecopter giveaway