TLC Book Tours: Under My Skin
Pages: 368 Pages
Publisher: Park Row; Original edition (October 1, 2018)
From New York Times bestselling author and master of suspense Lisa Unger comes an addictive psychological thriller about a woman on the hunt for her husband's killer
What if the nightmares are actually memories?
It's been a year since Poppy's husband, Jack, was brutally murdered during his morning run through Manhattan's Riverside Park. In the immediate aftermath, Poppy spiraled into an oblivion of grief, disappearing for several days only to turn up ragged and confused wearing a tight red dress she didn't recognize. What happened to Poppy during those lost days? And more importantly, what happened to Jack?
The case was never solved, and Poppy has finally begun to move on. But those lost days have never stopped haunting her. Poppy starts having nightmares and blackouts—there are periods of time she can't remember, and she's unable to tell the difference between what is real and what she's imagining. When she begins to sense that someone is following her, Poppy is plunged into a game of cat and mouse, determined to unravel the mystery around her husband's death. But can she handle the truth about what really happened?

Purchase Links

This was my first Lisa Unger read and wow, what a book! I spent a lot of time being confused and finding it challenging to keep things straight in the book--what was real for Poppy, and what was a dream, However, it worked well because I could NOT stop reading the book because I HAD to know what happened! The hard thing about reviewing thrillers is that you don't want to say too much about the plot or give anything away--but know this is a fast paced crazy thriller that is perfect for fall!
About Lisa Unger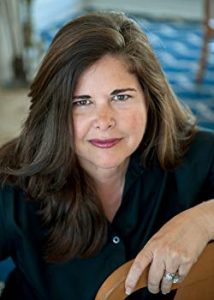 Lisa Unger is the New York Times and internationally bestselling, award-winning author of sixteen novels, including the new psychological thriller UNDER MY SKIN (coming Oct 2!)
Her books are published in twenty-six languages worldwide, have sold millions of copies and have been named "Best of the Year" or top picks by the Today show, Good Morning America, Entertainment Weekly, Amazon, Indie Booksellers, Goodreads, and Sun-Sentinel to name a few.
Her essays have appeared in the New York Times, Wall Street Journal, NPR and Travel+Leisure Magazine. Lisa Unger lives in the Tampa Bay area of Florida with her husband, daughter and labradoodle.
Connect with Lisa