TLC Book Tours: Where the Forest Meets the Stars (Review)
Publisher:
Lake Union Publishing (March 1, 2019)
In this gorgeously stunning debut, a mysterious child teaches two strangers how to love and trust again.
After the loss of her mother and her own battle with breast cancer, Joanna Teale returns to her graduate research on nesting birds in rural Illinois, determined to prove that her recent hardships have not broken her. She throws herself into her work from dusk to dawn, until her solitary routine is disrupted by the appearance of a mysterious child who shows up at her cabin barefoot and covered in bruises.
The girl calls herself Ursa, and she claims to have been sent from the stars to witness five miracles. With concerns about the child's home situation, Jo reluctantly agrees to let her stay—just until she learns more about Ursa's past.
Jo enlists the help of her reclusive neighbor, Gabriel Nash, to solve the mystery of the charming child. But the more time they spend together, the more questions they have. How does a young girl not only read but understand Shakespeare? Why do good things keep happening in her presence? And why aren't Jo and Gabe checking the missing children's website anymore?
Though the three have formed an incredible bond, they know difficult choices must be made. As the summer nears an end and Ursa gets closer to her fifth miracle, her dangerous past closes in. When it finally catches up to them, all of their painful secrets will be forced into the open, and their fates will be left to the stars.
"Enchanting, insightful, and extraordinary." —Novelgossip
"A heartwarming, magical story about love, loss, and finding family where you least expect it. This touching novel will remind readers of a modern-day The Snow Child." —Christopher Meades, award-winning author of Hanna Who Fell from the Sky

Purchase Links
WOW! What a book! As soon as I started reading it I knew it was something special. This book gave me all the feels and it's so hard to express how much I loved this book. I loved all the characters, but particularly connected with Gabe, because of his issues with anxiety. The author beautifully dealt with so many complex issues in this book, ranging from cancer to anxiety and mental illness to a troubled child, and did it well. What I also loved about this book wad the fantasy element of Ursa being an "alien" and coming from the stars--though your brain tells you there's no way that can happen, this book is so great that you think, "well....maybe!" and part of you hopes it's true. Ursa is just so likeable!
There was
only ONE thing I didn't like in the book-- I won't write it here because of spoilers. If you want to know the specific trigger warning, feel free to message me. I decided not to let it impact my overall rating of the book because it was something specific to me. I even DM'd the author about it! Overall this one of my top reads so far in 2019. I absolutely recommend you read this book! Plus...THAT COVER! Swoon!
About Glendy Vanderah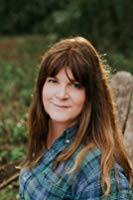 Glendy Vanderah worked as an endangered bird specialist in Illinois before she became a writer. Originally from Chicago, she now lives in rural Florida with as many birds, butterflies, and wildflowers as she can lure to her land. Where the Forest Meets the Stars is her debut novel.
Connect with Glendy