TLC Book Tours: When We Believed in Mermaids (Review)
Paperback: 352 pages
Publisher: Lake Union Publishing (July 16, 2019)
From the author of The Art of Inheriting Secrets comes an emotional new tale of two sisters, an ocean of lies, and a search for the truth.
Her sister has been dead for fifteen years when she sees her on the TV news…
Josie Bianci was killed years ago on a train during a terrorist attack. Gone forever. It's what her sister, Kit, an ER doctor in Santa Cruz, has always believed. Yet all it takes is a few heart-wrenching seconds to upend Kit's world. Live coverage of a club fire in Auckland has captured the image of a woman stumbling through the smoke and debris. Her resemblance to Josie is unbelievable. And unmistakable. With it comes a flood of emotions—grief, loss, and anger—that Kit finally has a chance to put to rest: by finding the sister who's been living a lie.
After arriving in New Zealand, Kit begins her journey with the memories of the past: of days spent on the beach with Josie. Of a lost teenage boy who'd become part of their family. And of a trauma that has haunted Kit and Josie their entire lives.
Now, if two sisters are to reunite, it can only be by unearthing long-buried secrets and facing a devastating truth that has kept them apart far too long. To regain their relationship, they may have to lose everything.

Purchase Links

I've been a Barabara O'Neal fan foa a long time--I remember picking up The Lost Recipe for Happiness at the bookstore, absolutely loving it, and immediately adding her to my "must read" author list! I love her writing style, and I love how her books have depth, but yet are easy and enjoyable to read. When We Believed in Mermaids is one of her best!
I absolutely loved the New Zealand setting, and I loved the story of Kit and Josie's sisterly bond. This story did have some romance, too--Javier the musician from Spain was just dreamy! I loved the description of surfing--I felt like I could smell the saltwater, feel the ocean breeze, hear the waves. This book felt like a vacation! I was hooked from the very first chapter and spent a weekend devouring this book. While the book is emotional, it's also a relaxing, feel good read you won't be able to put down. If she isn't already, this book will definitely make Barbara O'Neal a must read author for you too!
About Barbara O'Neal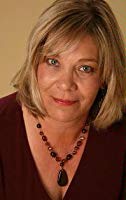 Barbara O'Neal is the author of twelve novels of women's fiction, including The Art of Inheriting Secrets, How to Bake a Perfect Life, and The All You Can Dream Buffet. Her award-winning books have been published in more than a dozen countries, including France, England, Poland, Australia, Turkey, Italy, Germany, and Brazil. She lives in the beautiful city of Colorado Springs with her beloved, a British endurance athlete who vows he'll never lose his accent.
Connect with Barbara