TLC Book Tours: Stay (GIVEAWAY!)
Hardcover: 298 Pages
Publisher: Lake Union Publishing (December 3, 2019)
An unforgettable novel about the power of friendship and kindness by the New York Times bestselling author of Pay It Forward.
In the summer of 1969, fourteen-year-old Lucas Painter carries a huge weight on his shoulders. His brother is fighting in Vietnam. His embattled parents are locked in a never-ending war. And his best friend, Connor, is struggling with his own family issues. To find relief from the chaos, Lucas takes long, meandering walks, and one day he veers into the woods.
There he discovers an isolated cabin and two huge dogs. Frightened, he runs. And the dogs run with him. Lucas finds unusual peace in running with the dogs, and eventually he meets their owner, Zoe Dinsmore. Closed off and haunted by a tragic past, Zoe has given up. She doesn't want to be saved. She wants out. But Lucas doesn't want her to go, and he sees an opportunity to bring more than one friend back into the light. It's either the best or worst idea he's ever had, but Lucas isn't giving up on Zoe or Connor.
Their unexpected connection might be the saving grace that Zoe thought she'd lost, that Connor needs, and that Lucas has been running toward.

Purchase Links

What a beautiful and touching story! After reading this book I couldn't believe this was my first book by Catherine Ryan Hyde--it certainly won't be my last. I flew through this book--and stayed up late reading my flashlight because I just couldn't put it down. What drew me to the book was the dogs in the story of course--but the book was so much more than that. Every character in this book was so intriguing and interesting--my favorite was Lucas but I also loved Connor and Zoe. This book really shows how one person can make a huge impact on others, and how seemingly mundane decisions can affect our whole life.
One of my favorite quotes:
"Don't be too hard on your brother," she said. "We're all just doing our best, even if it doesn't look so good from the outside. Try not to judge him."
I absolutely recommend this book, especially if you love historical fiction. This one sticks with you and is so important. It does include trigger warning themes of suicide and addiction, and also explores human-animal relationships, friendship and family relationships. I hope you enjoy it as much as I did!
About Catherine Ryan Hyde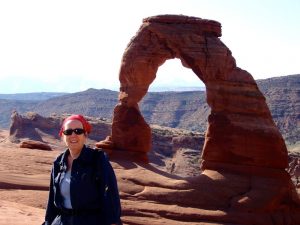 Catherine Ryan Hyde is the author of more than thirty published and forthcoming books. An avid hiker, traveler, equestrian, and amateur photographer, she has released her first book of photos, 365 Days of Gratitude: Photos from a Beautiful World.
Her novel Pay It Forward was adapted into a major motion picture, chosen by the American Library Association (ALA) for its Best Book for Young Adults list, and translated into more than twenty-three languages for distribution in over thirty countries. Both Becoming Chloe and Jumpstart the World were included on the ALA's Rainbow List, and Jumpstart the World was a finalist for two Lambda Literary Awards. Where We Belong won two Rainbow Awards in 2013, and The Language of Hoofbeats won a Rainbow Award in 2015.
More than fifty of her short stories have been published in the Antioch Review, Michigan Quarterly Review, Virginia Quarterly Review, Ploughshares, Glimmer Train, and many other journals, and in the anthologies Santa Barbara Stories and California Shorts and the bestselling anthology Dog Is My Co-Pilot. Her stories have been honored in the Raymond Carver Short Story Contest and the Tobias Wolff Award and nominated for the O. Henry Award and the Pushcart Prize. Three have been cited in The Best American Short Stories.
She is founder and former president (2000–2009) of the Pay It Forward Foundation and still serves on its board of directors. As a professional public speaker, she has addressed the National Conference on Education, twice spoken at Cornell University, met with AmeriCorps members at the White House, and shared a dais with Bill Clinton.
Connect with Catherine

Follow the full tour!
a Rafflecopter giveaway