Review: Confess
Title:
Confess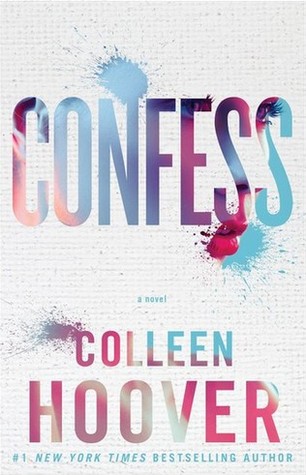 Author: Colleen Hoover
320 pages, published March 10, 2015
Genre: Contemporary Fiction, New Adult Romance
Source: Purchased for myself
From Goodreads:
Auburn Reed has her entire life mapped out. Her goals are in sight and there's no room for mistakes. But when she walks into a Dallas art studio in search of a job, she doesn't expect to find a deep attraction to the enigmatic artist who works there, Owen Gentry.

For once, Auburn takes a risk and puts her heart in control, only to discover Owen is keeping major secrets from coming out. The magnitude of his past threatens to destroy everything important to Auburn, and the only way to get her life back on track is to cut Owen out of it.

The last thing Owen wants is to lose Auburn, but he can't seem to convince her that truth is sometimes as subjective as art. All he would have to do to save their relationship is confess. But in this case, the confession could be much more destructive than the actual sin…
My Review:
Colleen Hoover never fails to blow me away, and she's done it a gain with Confess. If you've read my reviews you know I LOVE this author, but trust me, all the hype is worth it. She is that amazing! Rather than blabbing on about how wonderful the book is (because let's be real, EVERYONE is posting how wonderful it is), I'm going to change this review up a bit with some confessions, to go along with the theme of the book!
I confess I read the book in less than 48 hours. The story sucked me in completely.
I confess that my new book boyfriend is Owen Mason Gentry. OMG! I hope my husband doesn't mind...lol. Owen was amazing! Such an intense, powerful, strong character!!
I confess that I am once again impressed by the creativity of the plot for this book, and how the theme of confessions is woven through every aspect of the story. CoHo is brilliant!
I confess I immediately pre-ordered Hoover's next book, November Nine, within minutes of finishing Confess. Without even reading the synopsis.
I confess this book stuck with me long after I finished reading it. Such a powerful story of love. My heart broke for Auburn.
There are so many wonderful quotes from this book, but this one struck me the most. I can completely relate to that instant, I feel like I've known you my whole life connection:
"There are people you meet that you get to know, and then there are people you meet that you already know."
Overall rating for "Confess": Five Stars
What are some of your confessions about Confess? Happy Reading!