Review: Dog Crazy
Title: Dog Crazy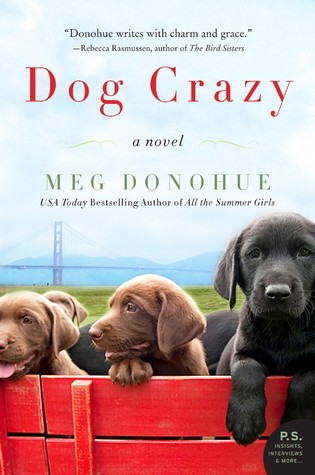 Author: Meg Donahue
288 pages, published March 2015
Genre: Women's Fiction
Source: Library
From Goodreads:
As a pet bereavement counselor, Maggie Brennan uses a combination of empathy, insight, and humor to help patients cope with the anguish of losing their beloved four-legged friends. Though she has a gift for guiding others through difficult situations, Maggie has major troubles of her own that threaten the success of her counseling practice and her volunteer work with a dog rescue organization.

Everything changes when a distraught woman shows up at Maggie's office and claims that her dog has been stolen. Searching the streets of San Francisco for the missing pooch, Maggie finds herself entangled in a mystery that forces her to finally face her biggest fear-and to open her heart to new love.

Packed with deep emotion and charming surprises, Dog Crazy is a bighearted and entertaining story that skillfully captures the bonds of love, the pain of separation, and the power of our dogs to heal us.
My Review:
What drew me to this book (in addition to the fact that I absolutely love dogs) is that adorable cover!! I also loved this story. I loved how Maggie's story paralleled Anya's, and how Maggie finally faces her issues with the help of some furry companions. It's such a sweet and emotional story that made my heart so happy. Despite its deep emotion, this book is a relatively quick and relaxing read. It's well written, engaging, and fun.
I loved the dogs as characters in this story--I loved Giselle and Seymour! I love how Seymour's challenges mirrored Maggie's challenges--I loved how all the characters' stories tied together. The book talks about Anya's character taking photos of dogs, and that would've been really fun to see in the book!
I definitely recommend this fun book! Especially if you love dogs as much as I do!
Overall rating for "Dog Crazy": 4 stars
Happy Reading!