Review: The Girl on the Train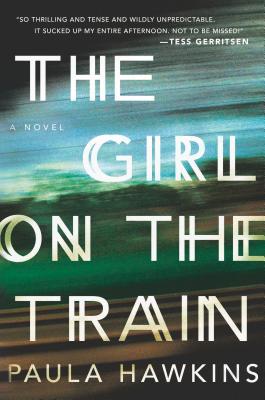 Title: The Girl on the Train
Author: Paula Hawkins
336 pages, published January 2015
Genre:
Source: Library
From Goodreads:
Rachel takes the same commuter train every morning. Every day she rattles down the track, flashes past a stretch of cozy suburban homes, and stops at the signal that allows her to daily watch the same couple breakfasting on their deck. She's even started to feel like she knows them. "Jess and Jason," she calls them. Their life—as she sees it—is perfect. Not unlike the life she recently lost.

And then she sees something shocking. It's only a minute until the train moves on, but it's enough. Now everything's changed. Unable to keep it to herself, Rachel offers what she knows to the police, and becomes inextricably entwined in what happens next, as well as in the lives of everyone involved. Has she done more harm than good?

A compulsively readable, emotionally immersive, Hitchcockian thriller that draws comparisons to Gone Girl, The Silent Wife, or Before I Go to Sleep, this is an electrifying debut embraced by readers across markets and categories.
My Review:
This book has had SO much hype, so I was eager to read it! I'll be honest by saying I liked it but didn't LOVE it--I didn't think it was quite up to the level of hype it's been receiving. Parts of it reminded me ea lot of Gone Girl, but no where near as wild and crazy and addictive to read. This one kept me reading and I most definitely got hooked into it,but it was more from a "I just want to know what happens" standpoint rather than an "I absolutely love this book" standpoint.
The book switched between Rachel's point of view and Megan's point of view--which I liked. The difficult part to keep straight was the switching time periods. I was glad I was reading the physical book instead of the e-book on my kindle, as I had to keep flipping back pages to remember what the time frame was, as much of the book revolved around a specific date.
The plot of the book was great, and certainly kept me guessing, but I felt like it dragged on a bit in the middle. No pun intended, but the book was a bit of a train wreck--all of the main characters were a hot mess. But that's definitely what kept me reading the book--so I'm definitely glad I read it. I think if I hadn't heard all the hype I may have liked it more--but overall it was a decent read.
Overall rating for "The Girl on the Train": 3 stars
Happy Reading!