Book Beginnings Friday: The Status of All Things
Book Beginnings Fridays is a weekly event hosted by fellow Oregon blogger Gilion at
Rose City Reader.
The purpose is to share the first sentence (or so) of the book you are reading, along with your initial thoughts about the sentence, impressions of the book, or anything else the opener inspires. Please remember to include the title of the book and the author's name.
Just this morning I started reading
The Status of All Things
by Liz Fenton and Lisa Steinke. Only two chapters in and I'm already loving it! It's been on my TBR since it came out in June and my name came up on the hold list at the library! Here's the first bit of the book:
"In less than 24 hours, I'll be walking down the aisle. Something borrowed? Check. Something blue? Check. Something old, something new? Check. The love of my life: Double check. #whatcouldgowrong"
That hashtag there definitely is an omen! Here's the synopsis: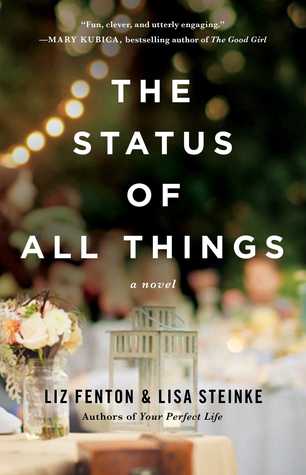 Kate is a thirty-five-year-old woman who is obsessed with social media. So when her fiancé, Max, breaks things off at their rehearsal dinner—to be with Kate's close friend and coworker, no less—she goes straight to Facebook to share it with the world. But something's changed. Suddenly, Kate's real life starts to mirror whatever she writes in her Facebook status. With all the power at her fingertips, and heartbroken and confused over why Max left her, Kate goes back in time to rewrite their history.

Kate's two best friends, Jules and Liam, are the only ones who know the truth. In order to convince them she's really time traveled, Kate offers to use her Facebook status to help improve their lives. But her attempts to help them don't go exactly as planned, and every effort to get Max back seems to only backfire, causing Kate to wonder if it's really possible to change her fate.

In The Status of All Things, Liz Fenton and Lisa Steinke combine the humor and heart of Sarah Pekkanen and Jennifer Weiner while exploring the pitfalls of posting your entire life on the Internet. They raise the questions: What if you could create your picture-perfect life? Would you be happy? Would you still be you? For anyone who's ever attempted—or failed—to be their perfect self online, this is a story of wisdom and wit that will leave you with new appreciation for the true status of your life.
Can't wait to read more of this one! Happy Friday and Happy Reading!!