Review: Eight Hundred Grapes
Title:
Eight Hundred Grapes
Author: Laura Dave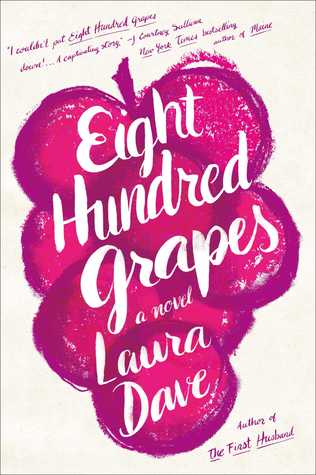 260 pages, published June 2015
Genre: Women's Fiction
Source: Library
From Goodreads:
Growing up on her family's Sonoma vineyard, Georgia Ford learned some important secrets. The secret number of grapes it takes to make a bottle of wine: eight hundred. The secret ingredient in her mother's lasagna: chocolate. The secret behind ending a fight: hold hands.

But just a week before her wedding, thirty-year-old Georgia discovers her beloved fiancé has been keeping a secret so explosive, it will change their lives forever.

Georgia does what she's always done: she returns to the family vineyard, expecting the comfort of her long-married parents, and her brothers, and everything familiar. But it turns out her fiancé is not the only one who's been keeping secrets…
My Review:
"You have to grow, mold, squish about eight hundred grapes to get just one bottle of wine. If that isn't an argument to finish the bottle, I don't know what is."
I LOVED this book. Love, Love, LOVED this book. I alternately couldn't wait to finish it to find out what happened, and never wanted it to end because it was so amazing. I loved everything about it--the setting in Sonoma County, the characters, the family dynamic, everything about wine, and of course, Georgia's journey.
What I love about reading books in general is that books allow you to learn about things and places you otherwise wouldn't be able to. That is what I loved about this book--I learned so much about the winemaking process! I've visited many wineries (the area where I live is the Willamette Valley in Oregon) but I still learned a lot about the process in this book.
I loved the themes of this book--the theme of synchronization, keeping families together, and fate. It's the perfect summer read, and one of my favorites of 2015. The author's writing style was fantastic--it flowed effortlessly and I couldn't bear to put it down!
Now...who's up for some wine?
Overall rating for "Eight Hundred Grapes": 5 stars
Happy Reading!