TLC Book Tour: Thrill Me
Title:
Thrill Me
Author: Susan Mallery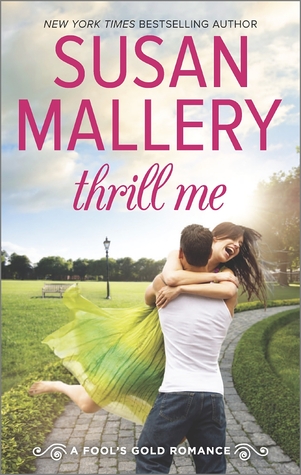 368 pages, published July 28, 2015
Genre: Contemporary Romance
Purchase on Amazon
Note: I received this book from
TLC Book Tours
to facilitate my review. I received no other compensation, and all opinions are my own.
From Goodreads:
Meet the Mitchell brothers of Fool's Gold, California—five gorgeous men who've left a trail of broken hearts in their wake…

Maya Farlow learned the hard way to depend only on herself, so when she fell too deeply for the bad-boy charms of Del Mitchell, she did the only thing she could—she ran. Stunned, Del left Fool's Gold to make his name and fortune in extreme sports.

Now ten years later, Maya's been hired to promote her hometown's new slogan, The Destination for Romance. The celebrity spokesman is none other than Del, the man she dumped but never forgot. Awkward!

Although Del's not the type to hold a grudge, he's determined to avoid falling a second time for the woman who broke his heart. He's a daredevil, not an idiot. Trouble is, in all his adventures, he never found a rush as exhilarating as Maya's kiss. Maybe risking his heart will prove to be the biggest thrill of all…
My Review:
Surprisingly, this was my first read in the Fool's Gold series! It definitely won't be my last. I really enjoyed this book! I loved the characters--Maya and Del were both so likeable. Although it's pretty clear where the plot was heading, I couldn't stop reading it to find out how it happened! I loved the chemistry between Maya and Del.
I look forward to reading other books in the Fool's Gold series to learn more about some of the other characters--I love it when authors set a whole series in the same place and have the characters cross paths. I also loved that this book still made complete sense even though I haven't read the 17 previous Fool's Gold books. A winner all the way around from Susan Mallery!
About Susan Mallery:
New York Times bestselling author Susan Mallery has won the hearts of millions of readers around the world with books described as "immensely entertaining, intensely emotional" (RT Book Reviews), "hilarious" (Fort Worth Star-Telegram), and "heartwarming" (Publishers Weekly). One major retailer recently described her as "the queen of romantic fiction." While she deeply appreciates the accolades of critics and booksellers, Mallery is even more honored by the enthusiasm of her readers and the word-of-mouth that catapults her toward the top of the bestsellers lists time and again.

Mallery lives in not-so-sunny Seattle with her husband and a toy poodle who makes her laugh every day and who's not even a little bit impressed by her growing fame.
Visit her website
Facebook
Twitter


Thank you to TLC Book Tours! See the full tour list here.