Review: Carry On
Title: Carry On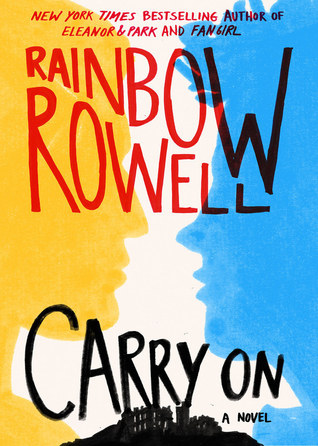 Author: Rainbow Rowell
522 pages, published October 6, 2015
Genre: YA
Source: Library
From Goodreads:
Simon Snow is the worst chosen one who's ever been chosen.

That's what his roommate, Baz, says. And Baz might be evil and a vampire and a complete git, but he's probably right.

Half the time, Simon can't even make his wand work, and the other half, he sets something on fire. His mentor's avoiding him, his girlfriend broke up with him, and there's a magic-eating monster running around wearing Simon's face. Baz would be having a field day with all this, if he were here—it's their last year at the Watford School of Magicks, and Simon's infuriating nemesis didn't even bother to show up.

Carry On is a ghost story, a love story, a mystery and a melodrama. It has just as much kissing and talking as you'd expect from a Rainbow Rowell story—but far, far more monsters.
My Review:
I'll admit that during the first part of the book, I wasn't hooked and I was skeptical. It was so much like Harry Potter, and I was almost irritated. But then.....I got sucked in. And I LOVED it! As it got further into the story, it was different enough from Harry Potter but equally addicting, and I HAD to know what happened. I could NOT put this book down. Don't let the 500+ pages scare you--since it's YA, it reads fast. I read almost half the book in one day.
I loved all the characters, but I especially loved Baz! I loved how the chapters alternated different perspectives between all the characters--sometimes even just for a sentence or two, just like in Eleanor and Park. There were some one-liners between Simon and Baz that I absolutely LOVED, but don't want to post here because I don't want to give anything away!
If you love Rainbow Rowell, and especially her YA novels, you'll love this book. You'll absolutely devour it. It's got everything--her witty and page turning writing style, charming characters, love, and a fantastic s
toryline. You won't be disappointed
!
Overall rating for "Carry On": 5 stars
Happy Reading!