Review: Saint Anything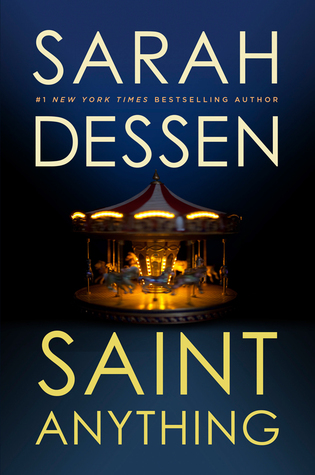 Title: Saint Anything
Author: Sarah Dessen
417 pages, published May 2015
Genre: YA Contemporary Fiction
Source: Library
From Goodreads:
Peyton, Sydney's charismatic older brother, has always been the star of the family, receiving the lion's share of their parents' attention and—lately—concern. When Peyton's increasingly reckless behavior culminates in an accident, a drunk driving conviction, and a jail sentence, Sydney is cast adrift, searching for her place in the family and the world. When everyone else is so worried about Peyton, is she the only one concerned about the victim of the accident?
Enter the Chathams, a warm, chaotic family who run a pizza parlor, play bluegrass on weekends, and pitch in to care for their mother, who has multiple sclerosis. Here Sydney experiences unquestioning acceptance. And here she meets Mac, gentle, watchful, and protective, who makes Sydney feel seen, really seen, for the first time.
My Review:
Wow! This is hands down my favorite Sarah Dessen book! She's one of my favorite YA authors--I love her fun, coming of age romances. But Saint Anything is another level--it's much deeper than her other novels. The book deals with some serious issues--drunk driving and drug abuse to name a few--and Dessen handles these issues perfectly through her characters. Sydney was my favorite. Through Peyton's struggles, Sydney feels increasingly left out, unimportant, sad, and even guilty for her brother's actions. Once she meets the Chathams, she finally finds people who understand her, and only then does she begin to work through her feelings. I loved her journey. This book perfectly captures why I love the YA genre so much.
As usual with Dessen, the writing was fantastic. The story reads fast and sucks you in from the first chapter. I read this book during some time off for Winter Break and flew through this book in less than 24 hours. This book is totally worth the read--and make you want to eat pizza!
Overall rating for "Saint Anything": 5 stars
Happy Reading!