Review: Winter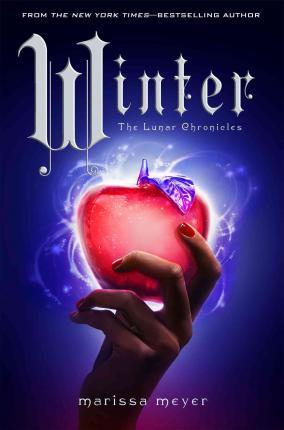 Title: Winter (Lunar Chronicles, #4)
Author: Marissa Meyer
824 pages, published November 2015
Genre: YA fantasy, sci-fi
Source: Library
From Goodreads:
Princess Winter is admired by the Lunar people for her grace and kindness, and despite the scars that mar her face, her beauty is said to be even more breathtaking than that of her stepmother, Queen Levana.

Winter despises her stepmother, and knows Levana won't approve of her feelings for her childhood friend—the handsome palace guard, Jacin. But Winter isn't as weak as Levana believes her to be and she's been undermining her stepmother's wishes for years. Together with the cyborg mechanic, Cinder, and her allies, Winter might even have the power to launch a revolution and win a war that's been raging for far too long.

Can Cinder, Scarlet, Cress, and Winter defeat Levana and find their happily ever afters?
My Review:
Wow. This was a LONG book. Over 800 pages. It was daunting. It was heavy--as in the physical book. It just kept going. But...it was worth it! The author perfectly wrapped up this series with a satisfying ending. You get answers to so many questions, and learn what happens to all your favorite characters from the series. Cinder is my favorite--I loved following her journey through this book (don't worry, I won't tell any spoilers)! The ending of this series was really everything I hoped it would be!
While reading this book, I was really glad I'd read Fairest. It gave a lot of background information about Levana that made you understand her more. If you've been looking for a great series to get into, The Lunar Chronicles are amazing! The reason for my 4.5 star rating instead of 5; the length. This is a personal preference of mine--I felt it was a bit too long and wordy, but I prefer concise to wordy any day. So that's just me--most readers won't have a problem with the length, I don't think.
Overall rating for "Winter": 4.5 stars
Happy Reading!