Review: A Discovery of Witches
Title: A Discovery of Witches (All Souls #1)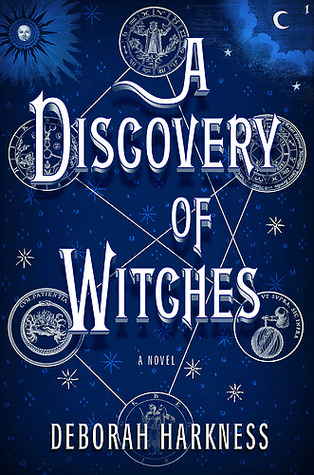 Author: Deborah Harkness
579 pages, published February 2011
Genre: Paranormal, Fantasy
Source: Borrowed from a friend
From Goodreads:
Deep in the stacks of Oxford's Bodleian Library, young scholar Diana Bishop unwittingly calls up a bewitched alchemical manuscript in the course of her research. Descended from an old and distinguished line of witches, Diana wants nothing to do with sorcery; so after a furtive glance and a few notes, she banishes the book to the stacks. But her discovery sets a fantastical underworld stirring, and a horde of daemons, witches, and vampires soon descends upon the library. Diana has stumbled upon a coveted treasure lost for centuries-and she is the only creature who can break its spell.
Debut novelist Deborah Harkness has crafted a mesmerizing and addictive read, equal parts history and magic, romance and suspense. Diana is a bold heroine who meets her equal in vampire geneticist Matthew Clairmont, and gradually warms up to him as their alliance deepens into an intimacy that violates age-old taboos. This smart, sophisticated story harks back to the novels of Anne Rice, but it is as contemporary and sensual as the
Twilight
series-with an extra serving of historical realism.
A few weeks ago, a friend told me she'd just finished a book I HAD to re ad. She let me borrow the book and once I started it, I immediately became immersed in the beautiful writing, setting, and story of the All Souls Trilogy. I've heard this book described as Twilight for intellectuals--this is spot-on. It has the vampires and romance part of Twilight, but with better writing, characters with PhD's, and set in legendary libraries, in addition to witches and daemons. If you liked Twilight (don't be afraid to admit it!) even a little, you will LOVE this book.
I'm not going to lie--the 579 pages with small print was very intimidating. Don't let it scare you--I was sucked into the story from the first page. Frequently in books that long I feel weighed down by endless descriptions and lack of plot advancement. Not so with this book! The plot moves along consistently, keeps you entertained, and makes it hard to put down. It takes awhile to get through but is worth every minute you spend on it. The author's writing is so eloquent and the characters are so intriguing. You are asking so many questions throughout the book, and many of them are answered, but some of them are left for the second book. The ending leaves you eager to read the second book, Shadow of Night. I loved this book so much that rather than borrowing the rest of the series from my friend, I ordered a copy of each book in the trilogy for myself--I knew they were ones I had to own.
I'll finish my review with a favorite quote from the book, on page 86. When I read this, I literally stopped and had to re-read and write down this quote because I loved it so much:
""Normal' is a bedtime story--a fable--that humans tell themselves to feel better when faced with overwhelming evidence that most of what's happening around them is not 'normal' at all."
Overall rating for "A Discovery of Witches": 5 stars