Review: Underwater
Title: Underwater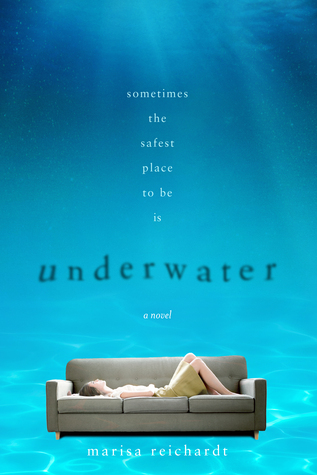 Author: Marisa Reichardt
288 pages, published January 12, 2016
Genre: YA Contemporary
Source: Library
From Goodreads:
"Forgiving you will allow me to forgive myself."

Morgan didn't mean to do anything wrong that day. Actually, she meant to do something right. But her kind act inadvertently played a role in a deadly tragedy. In order to move on, Morgan must learn to forgive—first someone who did something that might be unforgivable, and then herself.

But Morgan can't move on. She can't even move beyond the front door of the apartment she shares with her mother and little brother. Morgan feels like she's underwater, unable to surface. Unable to see her friends. Unable to go to school.

When it seems Morgan can't hold her breath any longer, a new boy moves in next door. Evan reminds her of the salty ocean air and the rush she used to get from swimming. He might be just what she needs to help her reconnect with the world outside.

Underwater is a powerful, hopeful debut novel about redemption, recovery, and finding the strength it takes to face your past and move on.
I've always loved the YA genre, and every now and then a YA book comes along and reminds me exactly why I love YA. Underwater is one of those books. This book blew me away. It was absolutely brilliant. I absolutely loved Morgan. Her character was so raw and real. I don't want to give too much of the details of the plot away because so much of what's great about this book is that you discover it along the way. But I will say that what she is dealing with is (sadly) something that perhaps hundreds of students across the country could be dealing with--on some level at least, since Morgan's case is a bit more extreme. I spent most of the book wishing I could give Morgan a hug and help her cope. I was so proud of her journey by the end of the book.
And Evan! Wonderful Evan from Hawaii. I loved how patient he was with Morgan. I love how he brought her out of her shell and helped her through. I also enjoyed her little brother, Ben, as a character. In addition to the main issue that the book deals with, Morgan also has the stress of a broken military family. The author handles both issues--serious, heavy, relevant issues--beautifully. I feel like so many teens could read this book and feel like they aren't alone. Which is EXACTLY why I love YA. This book was heartbreaking at times, but in a good way. I read this book in less than 24 hours because I couldn't bear to put it down. I had to know more about Morgan's story.
In short: go to the bookstore or library NOW and get this book. It's brilliant, well written, and so relevant to today's world. I know it's going to be one of my top favorites of 2016!
Overall rating for "Underwater": 5 stars
Happy Reading!