Blog Tour: Nobody But You
Title: Nobody But You (Cedar Ridge #3)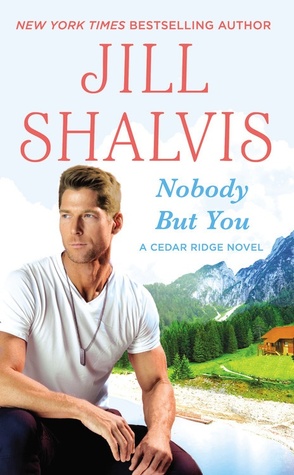 Author : Jill Shalvis
368 pages, published March 29, 2016
Genre: Women's Fiction, Romance
Note: I received this book from

NetGalley
to facilitate my review. I received no other compensation, and all opinions are my own.
Synopsis (Goodreads):
After an overseas mission goes wrong, Army Special Forces officer Jacob Kincaid knows where he must go to make things right: back home to the tiny town of Cedar Ridge, Colorado. All he needs to scrub away his painful past is fresh mountain air, a lakeside cabin, and quiet solitude. But what he discovers is a gorgeous woman living on a boat at his dock.
Sophie Marren has nowhere else to go. She's broke, intermittently seasick, and fighting a serious attraction to the brooding, dishy, I'm-too-sexy-for-myself guy who's now claiming her dock. Something about Jacob's dark intensity makes her want to tease—and tempt—him beyond measure. Neither one wants to give any ground . . . until they realize the only true home they have is with each other.
Jill Shalvis is one of my "go to" authors for a great romance read. Her books are perfect to cozy up with over the weekend, and this book is no exception! I've enjoyed both the Lucky Harbor and the Animal Magnetism series, but I think Cedar Ridge is my favorite because I am totally in love with the Kincaid family! All three brothers are so swoon-worthy, and I love Carrie, their mom. And Kenna! She's so quirky and fun.
The main female character in this book is great as well--I loved Sophie in this novel. I rooted for her to finally let go of her past and love Jacob from the first few chapters. I've said this with pretty much all Shalvis reviews, and I'll say it again: her books are predictable. Very predictable. Hot man with a troubled past. Likable heroine with a troubled past. They're attracted to each other. Can they get over their issues and admit they love each other? Insert miscommunication/hiccups. Fast forward to the happy ending! But you know what: I LOVE THEM. I don't care that they're predictable. I just don't care. To me, her books are like a comfortable chair with a cozy blanket and a cup of coffee. They make you feel good. They relax you. They make you forget about the stress in your life for awhile and just enjoy a good romance.
The Cedar Ridge series and Nobody But You is Shalvis at her best! If you haven't read her books yet, definitely pick of this book and the Cedar Ridge series!
About Jill Shalvis:
New York Times bestselling author Jill Shalvis lives in a small town in the Sierras full of quirky characters. Any resemblance to the quirky characters in her books is, um, mostly coincidental. Look for Jill's bestselling, award-winning books wherever romances are sold and visit her website for a complete book list and daily blog detailing her city-girl-living-in-the-
mountains adventures.
Connect with Jill:
Website
Facebook
Goodreads
Instagram
Pinterest
a Rafflecopter giveaway