Review: A Court of Thorns and Roses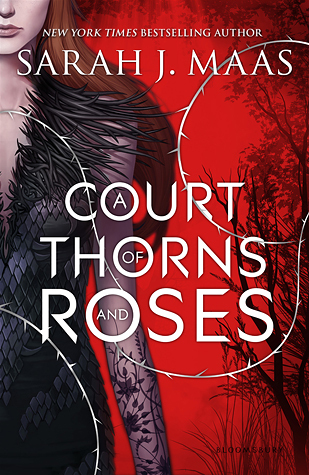 Title: A Court of Thorns and Roses
Author: Sarah J Maas
416 pages, published May 2015
Genre: Fantasy, YA
Source: Library
From Goodreads:
When nineteen-year-old huntress Feyre kills a wolf in the woods, a beast-like creature arrives to demand retribution for it. Dragged to a treacherous magical land she only knows about from legends, Feyre discovers that her captor is not an animal, but Tamlin—one of the lethal, immortal faeries who once ruled their world.
As she dwells on his estate, her feelings for Tamlin transform from icy hostility into a fiery passion that burns through every lie and warning she's been told about the beautiful, dangerous world of the Fae. But an ancient, wicked shadow grows over the faerie lands, and Feyre must find a way to stop it... or doom Tamlin—and his world—forever.
I'd been hearing so much about this book, and was excited to read it! However, once I started reading it, I had a really hard time getting into it. I thought it was because I'd just finished A Discovery of Witches and had a major book hangover, but I still just couldn't get invested in the story or the characters. I almost just abandoned it, but several friends convinced me to keep going and that it would get better. In a way, it did--the author's writing is excellent, and I got into it enough to keep reading because I wanted to know what happened. But I still just didn't really care about the story.
I don't know if this is because I don't read a lot of fantasy, or if it was just the story not working for me. I didn't like Feyre as a character at all, I didn't like the "insta-love" between her and Tamlin. The whole thing just weirded me out. The whole last 150 pages was just weird. There were two characters I actually did like--Lucien and Rhysand. I wanted to know more about them.
Although most people loved this book, I just wasn't one of them. Though I did love the author's writing style, the story just wasn't for me. I probably won't continue reading this series.
Overall rating for "A Court of Thorns and Roses": 2 stars