Review: Shadow of Night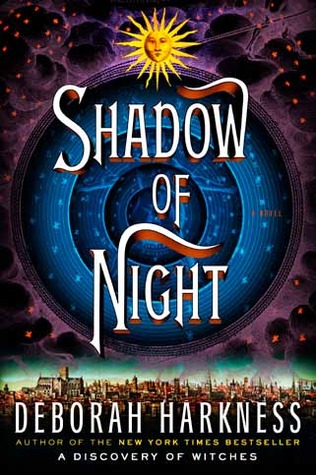 Title: Shadow of Night (All Souls #2)
Author: Deborah Harkness
584 pages, published July 2012
Genre: Paranormal, historical fiction
Source: purchased for myself
From Goodreads:
It bean with A Discovery of Witches...
Historian Diana Bishop, descended from a line of powerful witches, and long-lived vampire Matthew Clairmont have broken the laws dividing creatures. When Diana discovered a significant alchemical manuscript in the Bodleian Library, she sparked a struggle in which she became bound to Matthew. Now the fragile coexistence of witches, daemons, vampires and humans is dangerously threatened.

Seeking safety, Diana and Matthew travel back in time to London, 1590. But they soon realize that the past may not provide a haven. Reclaiming his former identity as poet and spy for Queen Elizabeth, the vampire falls back in with a group of radicals known as the School of Night. Many are unruly daemons, the creative minds of the age, including playwright Christopher Marlowe and mathematician Thomas Harriot.

Together Matthew and Diana scour Tudor London for the elusive manuscript Ashmole 782, and search for the witch who will teach Diana how to control her remarkable powers...
If you read my review of A Discovery of Witches, you know I absolutely fell in love with the first book. I was super excited to read the second one. After finishing it, I am still loving the series, but I wasn't as impressed with the second book. Based on other reviews, mine is NOT the popular opinion, but it's how I felt! The first couple hundred pages, the historical setting and tie-in with historical figures was quite entertaining (and brilliant, let's be honest!). After that, the story seemed VERY slow moving to me. I remember thinking, "find the book already!". It didn't have the gripping, couldn't put it down feeling that Witches had.
You know how in The Lord of the Rings trilogy, The Fellowship of the Ring was really good, The Return of the King was really good, but Two Towers was meh (except for "What are taters, precious?" hahahaha)? That's how I'm feeling about this series. There were a few shining spots at the end of this one that gave me high hopes for the third book, The Book of Life. Because of that I am still excited to read the third book!
Overall rating for "Shadow of Night": 3.5 stars