Blog Tour: What Happens in the Alps...by T.A. Williams
I was super excited when Karan Eleni contacted me to be a part of this tour! I'd read and reviewed What Happens in Tuscany from NetGalley and really enjoyed it, so I was excited to read another book by this author!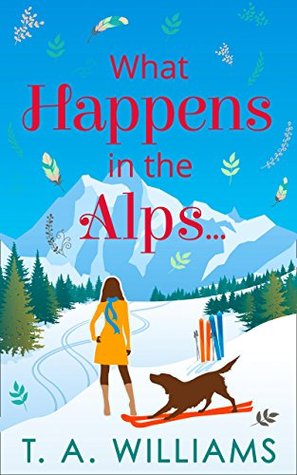 Title: What Happens in the Alps...
Author: T.A. Williams
262 pages, published March 21, 2016
Genre: Contemporary, Romance, Chick Lit
Publisher: Harlequin/Carina UK
Note: I received this book from the publisher through

NetGalley
to facilitate my review. I received no other compensation, and all opinions are my own.
Purchase Links: Amazon US Amazon UK iTunes Barnes & Noble
Synopsis:
Two years ago, Annie Brewer's life was turned upside down when her adrenaline-junkie husband died in a tragic climbing accident. So she's hoping that moving to the beautiful village of Santorso in the Italian Alps will finally put her life back on track!
She might be going into business with her oldest friend – notorious lady-charmer Matt Brown – but men are definitely out of the question for Annie! That is, until she bumps into tall, dark and delicious Alessandro Lago on the ski slopes…and spontaneously says 'Yes' to a date!
It must be the crisp, mountain air but suddenly, anything seems possible. The only trouble is, chivalrous Matt is looking more gorgeous than ever…
What a fun read! What I love most about Trevor's books is there is always a Black Lab involved. If you know me, you know I love my black lab! So many things to love about this book: the beautiful setting in Santorso, gorgeous European men, talk about delicious Italian food...all things I love in a good chick lit novel! And of course I absolutely adored Leo, the black Lab! I loved Annie's character and related to her well. I think everyone can relate to loss at some level, and the hard choices to move on afterwards. I rooted for Annie's success in her new business and her opening her heart to new love. How did she get lucky enough to have TWO European men?! Loved both Alessandro and Matt,though I won't go into detail about which I loved more, because I don't want to give anything away!
Though I predicted a few things about the end, I've said countless times in chick lit reviews: that predictability is so comforting sometimes, especially when I'm in the mood for a read like this. This is a lighthearted, entertaining read perfect for a cozy weekend spent reading. Trevor has a lovely writing style that is easy to follow and draws you in during the first chapter. This book was a fast read because of how immersed I became in the story and how hard it was to put down. I look forward to future "What Happens" books from this great author!
Firstly, my name isn't T A. It's Trevor. I write under the androgynous name T A Williams because 65% of books are read by women. In my first book, "Dirty Minds" one of the (female) characters suggests the imbalance is due to the fact that men spend too much time getting drunk and watching football. I couldn't possibly comment. Ask my wife…
I've written all sorts: thrillers, historical novels, short stories and now I'm enjoying myself hugely writing humour and romance. Romantic comedies are what we all need from time to time. Life isn't always very fair. It isn't always a lot of fun, but when it is, we need to embrace it. If my books can put a smile on your face and maybe give your heartstrings a tug, then I know I've done my job.
I've lived all over Europe, but now I live in a little village in sleepy Devon, tucked away in south west England. I love the place. That's why you'll find leafy lanes and thatched cottages in most of my books. Oh, yes, and a black Labrador.
I've been writing since I was 14 and that is half a century ago. However, underneath this bald, wrinkly exterior, there beats the heart of a youngster. My wife is convinced I will never grow up. I hope she's right.
Blog Tour Organized by: