Review: Tell Me Three Things
Title: Tell Me Three Things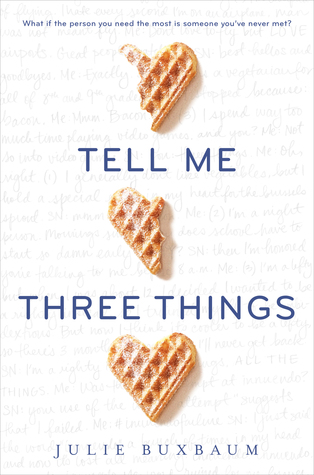 Author: Julie Buxbaum
336 pages, published April 2016
Genre: YA Contemporary
Source: Purchased for myself
From Goodreads:
Everything about Jessie is wrong. At least, that's what it feels like during her first week of junior year at her new ultra-intimidating prep school in Los Angeles. Just when she's thinking about hightailing it back to Chicago, she gets an email from a person calling themselves Somebody/Nobody (SN for short), offering to help her navigate the wilds of Wood Valley High School. Is it an elaborate hoax? Or can she rely on SN for some much-needed help?
It's been barely two years since her mother's death, and because her father eloped with a woman he met online, Jessie has been forced to move across the country to live with her stepmonster and her pretentious teenage son.
In a leap of faith—or an act of complete desperation—Jessie begins to rely on SN, and SN quickly becomes her lifeline and closest ally. Jessie can't help wanting to meet SN in person. But are some mysteries better left unsolved?
This one one of my favorite YA books I've read since Everything, Everything. I loved everything about this book! I loved Jessie as the main character. Despite definitely not being a young adult myself anymore, I still really related to her. I know how it feels to lose a parent, and I'm sure it's even worse losing a parent when you're an adolescent. I wanted good things for her so badly throughout the whole book.
I loved the style of the book--I love how YA books these days involve typed out IM conversations, emails, etc. It' s so real and an accurate portrayal of how young adults communicate these days. I loved the anticipation of not knowing who SN was--I had my guess (and I was thrilled when I was right) but there were so many possibilities. It was so wonderfully written that you were drawn in immediately. I had a hard time putting this one down, and yet I didn't want it to end.
This is a MUST READ for 2016!! Especially if you like YA. It's creative, entertaining, keeps you guessing, and warms your heart. My favorite YA of 2016 so far!
Rating for "Tell Me Three Things": 5 stars