Review: She Laughs in Pink
Title: She Laughs in Pink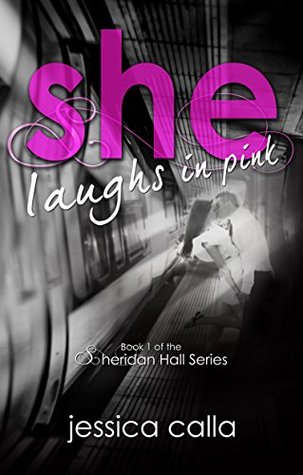 Author: Jessica Calla
289 pages, published May 17, 2016
Genre: New Adult Romance
Source: I received an e-copy of this book from BookFish Books in exchange for my honest review. I received no other compensation, and all opinions are my own.
From Goodreads:
Four years after her twin is murdered, Juliet Anderson still struggles with guilt, her parents, and her relationships. Two things keep her from falling into a deep, dark place—dancing and her best friend, Ben. So when Ben decides to play football for New Jersey University, Juliet doesn't hesitate. She follows. Finally away from her past, there is nothing to stand in the way. Juliet will win Ben's heart.

Then she meets Ben's roommate, Chase.

On probation and hell-bent on adhering to a "new life plan," aspiring artist Chase leaves his New York City home for New Jersey University and meets Juliet before even stepping foot on campus. For him, their connection is instant. She's the most vibrant girl he's ever seen. Her colors explode on his canvas, and he's never been more inspired in his life.

Too bad she's madly in love with his seemingly perfect, good guy roommate.
Wow!! I loved this book!!!I participated in the cover reveal back in March, and am so glad I got to read this fantastic book!! This book was easy for me to love because I completely adored Juliet as a character, particularly because she's a dancer. I totally understand what she meant by needing to dance, so I related to her well in addition to other aspects of her life. But even a non dancer would fall in love with Juliet and the rest of the characters who live in the basement of Sheridan Hall. Particularly Chase! He was dreamy! All the characters are so raw and vulnerable and real, in that raw and vulnerable way that eighteen year olds are. Call captured it perfectly in this book!
The writing was superb! This sounds like a bold statement but I'm telling the absolute truth--the writing style reminded me a lot of Colleen Hoover, and the book was just as hard to put down as a CoHo. Goodreads indicates this book is the first in the Sheridan Hall series and I absolutely cannot WAIT for the next book! The moment when you realize what the title means is everything you hope that moment should be in a book.
This book was fantastic, and left me in a book hangover for a couple days. Always a sign of a good book! I highly recommend this one if you love the NA genre!!
About Jessica Calla
Jessica Calla is a lawyer by day, romance writer by night. Her favorite time is "bedtime," when she's free to open the laptop, battle with the blinking cursor, and pour out the contents of her heart. Jessica is a member of Romance Writers of America, involved in the Contemporary, Young Adult, and New Jersey Chapters, and is a member of the Women's Fiction Writers Association. She lives in central New Jersey with her husband, two sons, and her dog. Besides reading and writing, she enjoys movies, coffee, and chocolate and considers herself addicted to Diet Coke and Netflix (in a good way).