Review: The Wedding Sisters
Title: The Wedding Sisters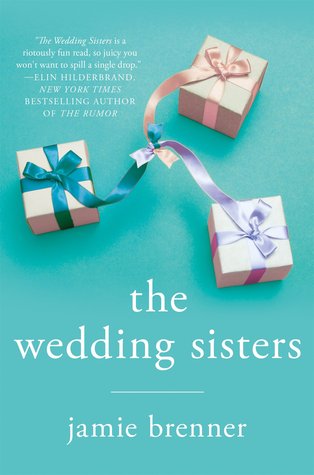 Author: Jamie Brenner
320 pages, publish date June 7, 2016
Genre: Women's Fiction
Note: I received this book from

NetGalley

t
o facilitate my review. I received no other compensation, and all opinions are my own.
From Goodreads:
Meryl Becker is living a mother's dream. The oldest of her three beautiful daughters, Meg, is engaged to a wonderful man from one of the country's most prominent families. Of course, Meryl wants to give Meg the perfect wedding. Who wouldn't? But when her two younger daughters, Amy and Jo, also become engaged to celebrated bachelors, Meryl has to admit that three weddings is more than she and her husband, Hugh, can realistically afford.
The solution? A triple wedding! At first, it's a tough sell to the girls, and juggling three sets of future in-laws is a logistical nightmare. But when Hugh loses his teaching job, and Meryl's aging mother suddenly moves in with them, a triple wedding is the only way to get all three sisters down the aisle. When the grand plan becomes public, the onslaught of media attention adds to Meryl's mounting pressure. Suddenly, appearances are everything - and she will do whatever it takes to keep the wedding on track as money gets tight, her mother starts acting nutty, and her own thirty year marriage starts to unravel.
In the weeks leading up to the nuptials, secrets are revealed, passions ignite, and surprising revelations show Meryl and her daughters the true meaning of love, marriage and family. Jamie Brenner's
The Wedding Sisters
invites readers to the most unpredictable wedding of the year.
What a fun read!! If you're looking for lots of drama, skip the reality TV and read this book! The writing was entertaining and witty, and there was so much going on in the book I had a hard time putting it down. While I was pretty sure I knew what was going to happen at the end, the book still kept me guessing and threw in a few surprises. Meg was definitely my favorite sister, but I loved all the characters and thought their stories intersected well. I spent a lot of time being irritated with Meryl, because she was so focused on appearances and refused to accept financial help when two of her daughter's future in laws were very wealthy. It just added to the entertainment and drama of the book!
If you're looking for an entertaining chick lit summer read, this book is perfect! It will keep you guessing until the end, which wraps the story up perfectly. I recommend this for your summer TBR!
Overall rating for "The Wedding Sisters": 4 stars