Review: First Comes Love
Title: First Comes Love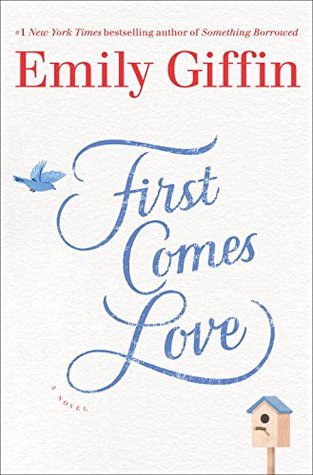 Author: Emily Giffin
400 pages, published June 28, 2016
Genre: Women's Fiction
Note: I received this book from NetGalley
to facilitate my review. I received no other compensation, and all opinions are my own.
From Goodreads:
rowing up, Josie and Meredith Garland shared a loving, if sometimes contentious relationship. Josie was impulsive, spirited, and outgoing; Meredith hardworking, thoughtful, and reserved. When tragedy strikes their family, their different responses to the event splinter their delicate bond.
Fifteen years later, Josie and Meredith are in their late thirties, following very different paths. Josie, a first grade teacher, is single—and
this close
to swearing off dating for good. What she wants more than the right guy, however, is to become a mother—a feeling that is heightened when her ex-boyfriend's daughter ends up in her class. Determined to have the future she's always wanted, Josie decides to take matters into her own hands.
On the outside, Meredith is the model daughter with the perfect life. A successful attorney, she's married to a wonderful man, and together they're raising a beautiful four-year-old daughter. Yet lately, Meredith feels dissatisfied and restless, secretly wondering if she chose the life that was expected of her rather than the one she truly desired.
As the anniversary of their tragedy looms and painful secrets from the past begin to surface, Josie and Meredith must not only confront the issues that divide them, but also come to terms with their own choices. In their journey toward understanding and forgiveness, both sisters discover they need each other more than they knew . . . and that in the recipe for true happiness, love always comes first.
I'm a huge fan of Emily Giffin and have read all her books, so I was super excited to read this one! While I enjoyed it overall, it was not my favorite EG book. I slogged through reading it for some reason. The writing was excellent, as it always is with her books, but I didn't connect with the characters in this one quite as well. As someone who doesn't want children, I couldn't connect to Josie at all and thought she was pretty crazy most of the book. I wasn't a fan of Meredith in the book, either. That being said, I know a lot of readers would relate to Josie and Meredith much more than myself, and for that reason I definitely still recommend this book.
If you're a fan of Emily Giffin's work, you should definitely still read this one. It's well written, a story with depth and emotion, and overall a solid read. A great book to bring with you on your summer vacation!
Overall rating for "First Comes Love": 3.5 stars