Review: It Ends With Us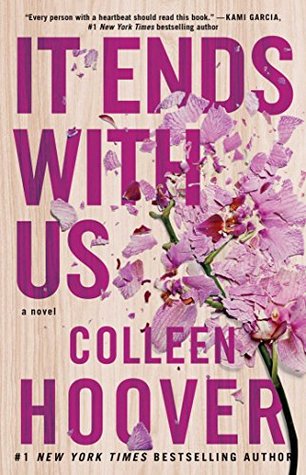 Title: It Ends With Us
Author: Colleen Hoover
384 pages, published August 2016
Genre: New Adult
Source: Pre-ordered months in advance
From Goodreads:
Lily hasn't always had it easy, but that's never stopped her from working hard for the life she wants. She's come a long way from the small town in Maine where she grew up - she graduated from college, moved to Boston, and started her own business. So when she feels a spark with a gorgeous neurosurgeon named Ryle Kincaid, everything in Lily's life suddenly seems almost too good to be true.
Ryle is assertive, stubborn, and maybe even a little arrogant. He's also sensitive, brilliant, and has a total soft spot for Lily, but Ryle's complete aversion to relationships is disturbing.
As questions about her new relationship overwhelm her, so do thoughts of Atlas Corrigan - her first love and a link to the past she left behind. He was her kindred spirit, her protector. When Atlas suddenly reappears, everything Lily has built with Ryle is threatened.
With this bold and deeply personal novel, Colleen Hoover delivers a heart-wrenching story that breaks exciting new ground for her as a writer. It Ends With Us is an unforgettable tale of love that comes at the ultimate price.
I've read and reviewed many Colleen Hoover books, but this one is different. It's been a long time since I've been moved by a book quite like this. This is an absolutely fantastic novel, but it's more than that. CoHo tackles some serious issues here--this is NOT a a fluffy love story or steamy romance. It has love and romance, but this book represents so much more than that on a deeper level. Several reviews I read said to go into this book "blind" and without knowing the details--which I did and totally agree with. So my review here is vague for that reason.
Colleen Hoover has elevated herself to a new level as a writer. I always admired her writing for its intense passion and romance, but this goes above and beyond that. She tackles a serious issue with raw honesty and a brilliant ability to see a situation from multiple sides. I definitely suggest you read the author's note at the end--but read it AFTER you finish the book, as it contains spoilers.
This book is a must read for everyone--if you read only one book this month, this year, this LIFETIME--read It Ends With Us.