Review: What Light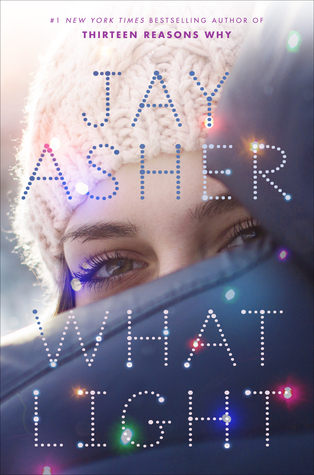 Title: What Light
Author: Jay Asher
Publication Date: October 18, 2016
Source: Library
From Goodreads:
Sierra's family runs a Christmas tree farm in Oregon—it's a bucolic setting for a girl to grow up in, except that every year, they pack up and move to California to set up their Christmas tree lot for the season. So Sierra lives two lives: her life in Oregon and her life at Christmas. And leaving one always means missing the other.

Until this particular Christmas, when Sierra meets Caleb, and one life eclipses the other.

By reputation, Caleb is not your perfect guy: years ago, he made an enormous mistake and has been paying for it ever since. But Sierra sees beyond Caleb's past and becomes determined to help him find forgiveness and, maybe, redemption. As disapproval, misconceptions, and suspicions swirl around them, Caleb and Sierra discover the one thing that transcends all else: true love.
I heard about this book from Erin @ The Hardcover Lover and had to read it! Unlike Erin, I haven't read Thirteen Reasons Why, so I had no expectations going into the book other than reading her review and absolutely loving that beautiful cover! Of course, the Oregon connection caught my attention, so I was excited to read the book.
This book made my heart happy! I flew through this book after getting hooked from the first chapter. I wanted to be on Sierra's family's farm, and found myself imagining what like would be like to move to California for 5 weeks a year to sell trees. I loved Sierra as a character--especially how she fought to give Caleb a chance and defended him to her friends and family. The overall theme of the book was exactly why I love YA. I saw a lot of myself in Sierra and related to her well.
The book is beautifully written and a quick read since you get so hooked into it! If you love YA, this is a great read for the holiday season!
Overall rating for "What Light": 4 stars