Review: If Not For You
Title: If Not For You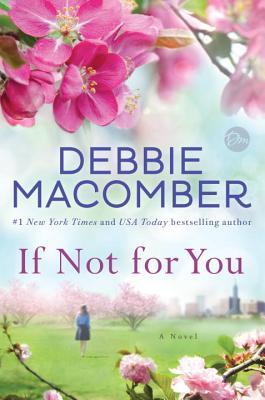 Author: Debbie Macomber
368 pages, published March 21, 2017
Note: I received this book from Net Galley t
o facilitate my review. I received no other compensation, and all opinions are my own.
From Goodreads:
If not for her loving but controlling parents, Beth Prudhomme might never have taken charge of her life and moved from her native Chicago to Portland, Oregon, where she s reconnected with her spirited Aunt Sunshine and found a job as a high school music teacher. If not for her friend Nichole, Beth would never have met Sam Carney, although first impressions have left Beth with serious doubts. Sam is everything Beth is not and her parents worst nightmare: a tattooed auto mechanic who s rough around the edges. Reserved and smart as a whip, Beth isn t exactly Sam s usual beer-drinking, pool-playing type of woman, either.
But if not for an awkward setup one evening, Beth might never have left early and been involved in a car crash. And if not for Sam who witnessed the terrifying ordeal, rushed to her aid, and stayed with her until help arrived Beth might have been all alone, or worse. Yet as events play out, Sam feels compelled to check on Beth almost daily at the hospital even bringing his guitar to play songs to lift her spirits. Soon their unlikely friendship evolves into an intense attraction that surprises them both.
Before long, Beth's strong-willed mother, Ellie, blows into town spouting harsh opinions, especially about Sam, and reopening old wounds with Sunshine. When shocking secrets from Sam s past are revealed, Beth struggles to reconcile her feelings. But when Beth goes a step too far, she risks losing the man and the life she's come to love.
I really enjoyed this book! What drew me to it was the cover (of course) and the fact that Beth moved to Oregon. I really enjoyed both Beth and Sam as characters, and found the story quite charming. Thanks to the prologue, I was sucked in right away and couldn't stop reading. Though this book is part of Macomber's New Beginnings series (this is book #3) you don't need to have read the first two in order for this one to make sense.
The story is predictable yet delightful,and if you're a fan of Macomber or this genre it is definitely worth the read. My only criticism: Beth moves to Oregon and gets a full time music job THAT easily?! I have friends that are music teachers and full time music teahing jobs are NOT that easy to come by! Haha. Other than that I loved the story. Though I loved Beth and Sam, I think Beth's aunt Sunshine was my favorite character. Her story was my favorite and I rooted for her happiness throughout the book. A great relaxing weekend read!
Ovearll rating for "If Not for You": 4 stars