Review: The Summer House
Title: The Summer House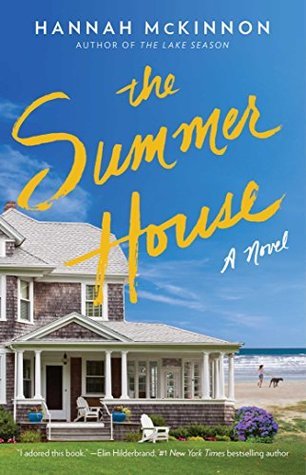 Author: Hannah McKinnon
336 pages, published June 6, 2017
Note: I received this book from the publisher via NeGalley t
o facilitate my review. I received no other compensation, and all opinions are my own.
Purchase Links:
About the Book:
Flossy Merrill has managed to—somewhat begrudgingly—gather her three ungrateful grown children from their dysfunctional lives for a summer reunion at the family's Rhode Island beach house. Clementine, her youngest child and a young mother of two small children, has caused Flossy the most worry after enduring a tragically life-altering year. But Samuel and his partner Evan are not far behind in their ability to alarm: their prospective adoption search has just taken a heart-wrenching turn. Only Paige, the eldest of the headstrong Merrill clan, is her usual self: arriving precisely on time with her well-adapted teens. Little does her family know that she, too, is facing personal struggles of her own.
No matter. With her family finally congregated under one seaside roof, Flossy is determined to steer her family back on course even as she prepares to reveal the fate of the summer house that everyone has thus far taken for granted: she's selling it. The Merrill children are both shocked and outraged and each returns to memories of their childhoods at their once beloved summer house—the house where they have not only grown up, but from which they have grown away. With each lost in their respective heartaches, Clementine, Samuel, and Paige will be forced to reconsider what really matters before they all say goodbye to a house that not only defined their summers, but, ultimately, the ways in which they define themselves. Featuring

McKinnon

's "sharp and evocative" (Kirkus Reviews) voice, this warm-hearted novel is perfect for fans of Elin Hilderbrand and Mary Alice Monroe.
This book was such a breath of fresh air and just what I needed to get excited for summer! It was everything I love about a summer read--beach house setting, great characters, and a feel good story that makes your heart happy. Normally in books with chapters with multiple characters, I almost always have that one (or two!) character that I'm not as excited to read about. Not so with The Summer House! I loved each character and did not find myself bored or wanting a certain character's chapter to be over. I loved each character's story and journey throughout the book. I found myself wishing I could go hang out at the house with this wonderful family.
I loved both of the author's previous books, and The Summer House did not disappoint! The writing and the story flowed well and was relaxing to read. The Summer house should definitely be on your summer reading list this year--it is a delightful read!
About the Author:
Hannah

McKinnon

is the author of The Lake Season and Mystic Summer. She lives in Fairfield County, Connecticut, with her family, a flock of chickens and two rescue dogs.