Review: How to Walk Away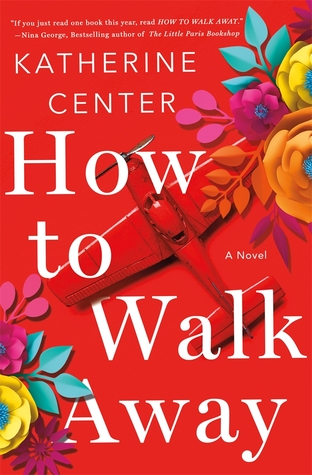 Title: How to Walk Away
Author: Katherine Center
Release Date: May 15, 2018
320 pages, St. Martin's Press
Note: I received this book from NetGalley
to facilitate my review. I received no other compensation, and all opinions are my own.
From Goodreads:
Margaret Jacobsen has a bright future ahead of her: a fiancé she adores, her dream job, and the promise of a picture-perfect life just around the corner. Then, suddenly, on what should have been one of the happiest days of her life, everything she worked for is taken away in one tumultuous moment .

In the hospital and forced to face the possibility that nothing will ever be the same again, Margaret must figure out how to move forward on her own terms while facing long-held family secrets, devastating heartbreak, and the idea that love might find her in the last place she would ever expect.

How to Walk Away is Katherine Center at her very best: an utterly charming, hopeful, and romantic novel that will capture reader's hearts with every page.
When you initially read the blurb for this book, it sounds like it's going to be a downer. Hospitals, a tragic accident, heartbreak....but I'm so glad I read this book! The author does a brilliant job of turning a tragic story into a page turning, engaging novel. I couldn't stop reading it and read more than half of it in one day. Margaret struggles in all aspects of her life and the author portrays her feelings in a very real, honest way. Not only does she struggle with how her life will change, there is also family drama to deal with that existed before her accident but was magnified after it.

The characters in this book was what connected me so much to this story and kept me reading. In addition to Margaret, I also loved her sister Kit. Oh and Ian, the Scottish psychical therapist? SWOON. I literally want to hang out with them all for an afternoon! This book has so much depth and emotion but also makes you laugh while exploring serious topics. What defines happiness? What defines a happy ending?

There were a few things I didn't like about the book that knocked a star off the rating. I won't spoil anything, and I can't say exactly what they are without spoilers, but the general idea is that I felt there were some choices made int the name of making a good story/romance aspect of it all (in my opinion) and took away a bit of how realistic the story was. BUT it didn't take away from the writing style and likeability of these wonderful characters! I definitely recommend this book!