Review: Everything We Give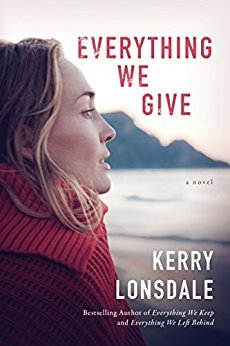 Title: Everything We Give
Author: Kerry Lonsdale
300 pages, published July 3, 2018
Lake Union Publishing
Note: I received this book from NetGalley
to facilitate my review. I received no other compensation, and all opinions are my own.
From Goodreads:
Award-winning photographer Ian Collins made only one mistake in life, but it cost his mother her freedom and destroyed their family, leaving Ian to practically raise himself. For years he's been estranged from his father, and his mother has lived off the grid. For just as long, he has searched for her.
Now, Ian seemingly has it all—national recognition for his photographs; his loving wife, Aimee; and their adoring daughter, Caty. Only two things elude him: a feature in National Geographic and finding his mother. When the prized magazine offers him his dream project on the same day that Aimee's ex-fiancé, James, returns bearing a message for Ian but putting a strain on his marriage, Ian must make a choice: chase after a coveted assignment or reconnect with a mysterious woman who might hold the key to putting his past to rest. But the stakes are high, because Ian could lose the one thing he holds most dear: his family.
What a fantastic conclusion to the Everything series! I LOVED the first one, liked the second one, and LOVED Everything We Give, the third one! I definitely recommend reading the first two books before you read this one--though there is a bit of a recap at the beginning that will catch you up if you haven't read them. However, I think you will have more of a connection to the book and the characters if you've read the first two.
You'll definitely fall in love with Ian in this book. The book jumps between Ian's perspective, Amy's perspective, and Ian's perspective as a young child. Young Ian's erspective tells the story of his relationship with his mother, who has dissociative identity disorder. Kerry Lonsdale does a phenomenal job of describing his mom's multiple personalities, and connecting Ian's past with his present. But I don't want to give away any spoilers--just know that this book and series is a must read! You'll fly through these books!