TLC Book Tours: When We Found Home: Review + Giveaway!
Hardcover: 432 pages
Publisher: HQN Books (July 10, 2018)
Life is meant to be savored, but that's not easy with no family, limited prospects and a past you'd rather not talk about. Still, Callie Smith doesn't know how to feel when she discovers she has a brother and a sister–Malcolm, who grew up with affection, wealth and privilege, and Keira, a streetwise twelve-year-old. Callie doesn't love being alone, but at least it's safe. Despite her trepidation, she moves into the grand family home with her siblings and grandfather on the shores of Lake Washington, hoping just maybe this will be the start of a whole new life.
But starting over can be messy. Callie and Keira fit in with each other, but not with their posh new lifestyle, leaving Malcolm feeling like the odd man out in his own home. He was clever enough to turn a sleepy Seattle mail-order food catalog into an online gourmet powerhouse, yet he can't figure out how to help his new sisters feel secure. Becoming a family will take patience, humor, a little bit of wine and a whole lot of love. But love isn't Malcolm's strong suit…until a beautiful barista teaches him that an open heart, like the family table, can always make room for more.
In this emotional, funny and heartfelt story, Susan Mallery masterfully explores the definition of a modern family—blended by surprise, not by choice—and how those complicated relationships can add unexpected richness to life.

Purchase Links

What a great read! I'm always excited for the new Susan Mallery book, and this one did not disappoint! The story was so creative and different than most --I can't imagine finding out that I had not one, but two half siblings I didn't know about! I loved getting to know Malcolm, Callie, and Keira throughout the book and watching them grow to love and support each other as siblings. I loved the instant bond Callie and Keira had--I think Keira was my favorite character in the whole book. At age 12, she had a difficult time trusting those around her. I just wanted to give her a big hug and tell her everything was going to be OK! I also loved that this book was set in Seattle.
The book has a nice blend of family and romance (for Malcolm and Callie) though one of the romances was the only thing I didn't like about the book. Santiago was so instantly obsessed and in "insta love" with Callie that it was kinda creepy. I liked his character a little more by the end but initially he was a real turnoff. Delaney, on the other hand, was a delight. I loved her and Malcolm together, and that she had a special bond with Keira as well. I related to her personally in a lot of ways.
As always, Susan Mallery's writing is fantastic. She draws you into the story from the beginning, and gets you to fall in love with the characters and root for them throughout the book. If you love a feel good family story with a bit of romance, I definitely recommend When We Found Home!
About Susan Mallery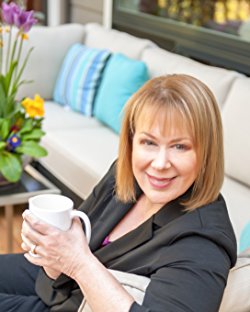 #1 NYT bestselling author Susan Mallery writes heartwarming, humorous novels about the relationships that define our lives-family, friendship, romance. She's known for putting nuanced characters in emotional situations that surprise readers to laughter. Beloved by millions, her books have been translated into 28 languages.Susan lives in Washington with her husband, two cats, and a small poodle with delusions of grandeur. Visit her at SusanMallery.com.
Connect with Susa

n

Follow the full tour here.
a Rafflecopter giveaway